Below one percent – this is the success rate of asylum applications in Hong Kong. In other developed regions, the success rate stands at 30-40%. Asylum seekers in Hong Kong often have to wait for years, even a decade, only to have their claims rejected.
Hong Kong has a rich refugee history, from those who fled here during the Chinese Civil War or Cultural Revolution, to the Vietnamese "boat people" fleeing the aftermath of the Vietnam War, to people currently seeking protection in our city.
Join us on June 19 for a virtual screening session in celebration of World Refugee Day (20 June), followed by a panel discussion with refugees in Hong Kong and representatives from UNHCR Hong Kong, Consulate General of Canada in Hong Kong & Macao, Branches of Hope, and Justice Centre Hong Kong!
In March 2020, Justice Centre Hong Kong made a submission to the United Nations Working Group on Arbitrary Detention (WGAD)'s study on arbitrary detention relating to drug policies. We discussed the exploitation, criminalisation and consequent detention or imprisonment of potential or actual victims of human trafficking and other victims of exploitation in the drug trade as observed in Hong Kong.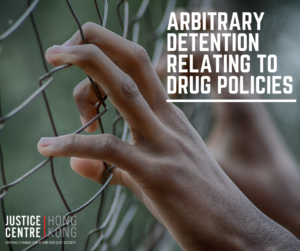 In February 2020, Justice Centre Hong Kong provided comments to the United Nations Human Rights Committee's draft General Comment 37 on the right of peaceful assembly under article 21 of the International Covenant on Civil and Political Rights (ICCPR).
In November 2019, Justice Centre made submissions to the Hong Kong Legislative Council's Subcommittee to Follow Up Issues Related to Inadequate Housing and Relevant Housing Policies for its meeting on 7 December 2019.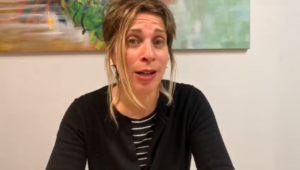 find our past newsletters
Human Trafficking Panel Discussion
Young Advocates Spring Programme
A study on the status of ethnic minorities, released this week, by Prof. Puja Kapai at The University of Hong Kong found that poverty rates amongst ethnic minority groups in Hong Kong are much higher than those of the ethnic Chinese population, and are getting worse.
For the last seven months, I have been helping Justice Centre as a volunteer to support Voices for Protection – an innovative advocacy and human rights training programme to provide refugees with the skills, tools, platform and opportunities to engage in advocacy and become their own change-makers in the community. Through the generous funding of HER Fund, we are pleased to announce a special intake of Voices for Protection adapted for women
This is my second week in my new role as Executive Director of Justice Centre, and indeed in Hong Kong, having left Europe in the thick of the worst refugee crisis since World War II.
When I told my friends I was volunteering at an NGO fighting for forced migrants' rights this summer, the responses I was met with were often a mix of curiosity and scepticism. The knee-jerk reaction from every one of my friends was, "Are there really refugees in Hong Kong?".
The "force" is an energy field which is created by, surrounds and penetrates all living things and binds them together (at least in the fictional universe of Star Wars). I have always believed I have that force in me. Okay, I'll admit I am a geek. But isn't the idea that your life can light up the life of another person epically poetic?
I remember hearing about Ai Wei Wei's landscape of "Sunflower seeds" when it was exhibited at the Tate Modern in London in 2010, and wondering how such a simple concept – a tiny sunflower seed – could be the catalyst for a large scale installation that would be so powerful and influential. Londoners were captivated at the intricacy of the 100 million handcrafted porcelain "seeds", weighing a total of over 150 tons and spread over 10cm deep at the gallery.
The word 'law' often connotes interns working late into the night, law students reading endless stacks of paperwork, and associates downing their third cup of coffee as they stare at the piles of briefs weighing down their desks. As a 15-year-old girl, it was hard to imagine that the legal aspects of my experience in the Young Advocates' Programme with Justice Centre would be the parts that exhilarated me the most.
Last year, I wrote a blog saying that Hong Kong was "in denial" about human trafficking in its borders. This was in response to the government's reaction to being ranked at Tier 2, once again, in the US State Department's Trafficking in Persons (TIP) Report, in a press release where the administration asserted: "there is no sign or evidence showing that Hong Kong is becoming a source, a destination or a place of transit for human trafficking activities."
The TIP Report, released on an annual basis, examines the efforts made by governments around the world to combat human trafficking within their borders through a tier-ranking system of 1, 2, 2-Watch List and 3.
"When I am in the MTR, people sometimes pinch their noses and move away as if I smell. If my arm touches theirs, they brush themselves off as if I've dirtied them. It hurts."
Though many times necessary, there is a danger in labelling groups. It becomes much easier to process and understand once we can file information about certain people in that one cabinet in our mind. But often, I think, we begin to blur the lines more than we should; the people in that group become that label and all the individuality and diversity that exists gets filed away too.
What images does the word "refugee" provoke in your mind? Maybe your thoughts are influenced by United Nations advertisements: you imagine a poor, hungry, homeless, uneducated, non-professional, who is miserably dressed.
It isn't so often in this line of work that you get to get to see the fruits of your and other NGOs' labour in the form of real policy reform and improvement on the ground. Achieving change in refugee rights in Hong Kong is slow and incremental, and the challenge with advocacy, in general, is that there is never any guarantee that your campaigning will succeed.
For one week in May, myself and a few of my colleagues were humbled and privileged to be let intimately into the lives of some of Hong Kong's refugees.
#SharedPasts is a storytelling project, the result of a collaboration between Justice Centre Hong Kong and photographer Xyza Cruz Bacani. In May 2015, Justice Centre interviewed 16 individuals: refugees currently seeking protection in Hong Kong as well as descendants of refugees. Each interviewee was photographed by Xyza in a location they chose to reflect their story and their message. Their individual stories share a similar theme; a common narrative of resilience and survival in the face of persecution and conflict.
I remember, not long after I started my job at Justice Centre, going to deliver a talk about refugees at a prestigious international school here. I asked the mostly local Hong Kong audience if any of them had ever met a refugee before. No hands went up. I then asked if any of them had grandparents or other relatives who had fled from China to Hong Kong during the Civil War or Cultural Revolution. Many hands went up.
We are so proud to see our third intake of our Voices for Protection traineeship graduating next week. Voices for Protection is a twelve-week traineeship where refugees from different backgrounds learn how to advocate for their own rights in a safe and professional manner.
I came across a comment piece in the SCMP a few days ago that really struck a chord with me. The writer, Joyce Man, talks about the weak policy and assistance currently offered to refugees, despite the fact that the Hong Kong we have today has been "built on the backs of refugees".
Friends, At the end of April, after more than three years, I will leave my position as Executive Director at Justice Centre Hong Kong. My heart is heavy: letting go of something which I believe so strongly in, something which I've been a part of building, something which I still hold a vision for, of working with people I care about, is not easy for me.
Have you ever told a joke to someone who just did not get the punchline? Or shared an anecdote with someone of a different culture, and found that the crux of your story was lost in translation? And anyone learning Cantonese knows how easy it can be to erroneously insult someone instead of complimenting them. Imagine, then, how it must be for refugees in Hong Kong, of various backgrounds and origins, many of whom do not speak any English let alone Cantonese.
The news of Elis Kurniasih's death came as a shock, but not a surprise. It was a shock because it was a tragic, unnecessary loss of life of a woman who was more than a migrant worker; she was a mother of two children, a daughter, a friend, a young woman with hopes and dreams of her own.
It's been a rather busy week for our team – busier than usual, anyway! If you were keeping track of our Hungry for Change campaign, which calls on the Hong Kong Government to let refugees eat in dignity, you might have seen our urgent action appeal to reach 1000 signatures by noon on Thursday, March 12.
I graduated with a Social Work degree nearly 20 years ago and worked in Australia, the UK and over the last five years in Hong Kong with the most inspiring of all groups: refugees and asylum seekers. What a rewarding experience I have had.
I work at Justice Centre because I believe that people should not be forced to endure torture, violence or mistreatment purely by virtue of the unfortunate fact that they happened to be born in a particular place at a particular moment in time.
The facts of the Erwiana case make for hard reading: repeated punches and beatings to the head and other parts of her body with items as various as a mop handle, the tube of a vacuum cleaner and coat hangers; deprived of the toilet and forced to wear nappies; stripped, humiliated and made to sleep on the...
There have been more than a few days which I can recall where I have woken up and wished for a day off from work. But then I think - what if I was to be completely deprived of the right to work at all? What if the government took away my freedom to use my skills, earn a living, support myself or contribute to society?
At Justice Centre Hong Kong, one of the things we do is help the most vulnerable refugees prepare their written testimony in support of their claim before the Hong Kong Immigration Department. The testimony contains a detailed narrative of what caused the refugees to flee their country and why they believe it is no longer safe for them to return to that country.
I came back to work this week with a heavy heart; fresh off the plane, leaving behind family, friends, parties and good food that I sorely miss in my home country, Bahrain. Every time I return from home, getting back into the way of life in Hong Kong is always a bit difficult, and I am usually reminded of how scary it was when I first arrived here as an overseas university student, having to learn everything you need to know when you move to a new country.
We've had a very exciting week at Justice Centre, with the final exhibition and auction of the Hong Kong Human Rights Arts Prize 2014 which was held on Human Rights Day (December 10th). The turnout and enthusiasm for the Prize was overwhelming and inspiring, successfully bringing together members of the public and arts community to ignite creative dialogue on human rights - what a night it was!
Next Wednesday, Human Rights Day, Justice Centre hosts the Hong Kong Human Rights Arts Prize, our annual event to harness the power of the visual arts to promote awareness, provoke dialogue, inspire action and ultimately, bring about change in the area of human rights.
A domestic worker who moonlights as a photographer and fifteen other artists from seven countries have been shortlisted for the Hong Kong Human Rights Arts Prize 2014.
Information is power. What we cannot measure, we cannot improve. So for governments to monitor and evaluate policies, it's crucial that they put solid data systems in place, which are an important tool to hold governments to account for human rights.
"Art… is one of the best weapons that can free us and bring positive change to the world." So says Kacey Wong, artist and activist in the current "Umbrella Movement" and one of the judges of this year's Hong Kong Human Rights Arts Prize - Justice Centre's annual art event to engage artists and new audiences in human rights.
As Justice Centre's 3-day refugee food challenge - Hungry for Change - comes to an end, guest blogger Joyce Man describes the trials and tribulations of living on HK$40 a day for food.
Last week Justice Centre Hong Kong launched an exciting new campaign called Hungry for Change. Many people have already signed up to our challenge to eat like a refugee for three days, to raise awareness of what some of Hong Kong's most vulnerable people go through just to survive in our city of plenty, and to encourage the Hong Kong government to improve the current system.
What would make you run as fast as you can? For many of the refugees we are working with here at Justice Centre, they ran as fast and as long as they could from their torturers, prison guards, murderous extremist militias, rapists, etc. They ran for their lives.
If you have a Facebook account and are breathing, there's a good chance you have recently been 'tagged' to take the Ice Bucket Challenge. The idea of daring someone to dump a bucket of ice water on their head or donate to the US-based ALS Association should they choose NOT take up the challenge, has gone viral and has so far led to the beneficiary charity raising almost their entire year of funding through donations in a matter of weeks.
Last month, a group of refugees from Voices for Protection had a rare opportunity to visit the Legislative Council to meet with LegCo member Fernando Cheung.
Working at Justice Centre as a Young Advocate for four weeks has been an inspiring experience. My name is Terri Ha; I have just turned 17 and am an aspiring law student. I came to Justice Centre on my first day with the perception of it being like any other law internship for a High School student - sitting idly on my thumbs for a month, serving the occasional coffee to a senior member of the Centre, while being given piles of complicated, incomprehensible documents to read through. Boy, was I wrong.
"When I grow up, I want to be a pilot", he said. We will call him Jason, though that is not his name. It was a sweet and ordinary conversation that most people have with children – except that the ambitious, animated, well-mannered little boy I was talking to is not living the life of most ten year olds.
On 17 July 2014, a group of protection claimants from Voices for Protection, a refugee-led advocacy project by Justice Centre, met with Legislative Council member Dr. Hon. Fernando Cheung to discuss the challenges that they face in their daily lives while they seek protection in Hong Kong. Some of the protection claimants shared their reflections on the discussions and the significance of this meeting
The spirit and tenacity of young people in the face of adversity never ceases to amaze me and motivate me in my work. I am currently being inspired by a campaign emerging from Australia, #twotoomany, which sees students of Woodville High School, Adelaide, mobilise on and offline to put pressure on their government to release their two Vietnamese refugee school friends from detention.
The author Arundhati Roy once said, "There's really no such thing as the 'voiceless'. There are only the deliberately silenced, or the preferably unheard." Nothing could be truer of refugees in Hong Kong who, because of their lack of rights here and the downright hostility they often face in their daily lives, many times feel fearful to speak up on issues that affect them.
Every year, four young people from Hong Kong and beyond participate in Justice Centre's Young Advocates' Programme, to give them insight into the workings of refugee law and human rights advocacy in a real practice setting. Here, Claudia Chu, one of this year's Young Advocates, reflects on her experience of the programme.
Every year, the US State Department rates countries around the world on progress they have made to combat human trafficking and forced labour, publishing the results in its Trafficking in Persons Report. It is disappointing that Hong Kong was downgraded to Tier 2 in 2009, where it has languished ever since.
The US State Department Trafficking in Person's Report (TIP), which evaluates the efforts made by governments worldwide to combat human trafficking, has again rated Hong Kong at 'Tier 2'. Hong Kong has held the same rating since 2009.
find our past newsletters
Human Trafficking Panel Discussion
Young Advocates Spring Programme