As 2020 swiftly comes to an end, it is again time for families and friends to gather together to reflect upon the great achievements we share, and to conclude our year with laughter and joy. Taking this opportunity, Justice Centre Hong Kong would like to whole-heartedly thank all our supporters, pro bono partners and civil society partners for their unwavering support, and our clients' faith in the work we do in driving change for a just and fair society. By working together we can make the impossible possible.
Here comes Day 2 of 3-day No Coffee Challenge! We know you are still doing brilliantly without coffee! We invite you to join us to fight injustice through a donation of $40/day for 3 days in the no coffee challenge!
Today is Day 1 of the 3-day No Coffee Challenge, we hope you will join us in showing solidarity with refugees and asylum seekers in Hong Kong by donating $40/day for the next 3 days!
For this year's #16Days of of Activism against Gender-Based Violence, we especially call for support of those seeking protection in HK & worldwide.
Justice Centre Hong Kong provided a submission to the UN Human Rights Committee in advance of its adoption of the list of issues for the Hong Kong Government's fourth report under the International Covenant on Civil and Political Rights (ICCPR).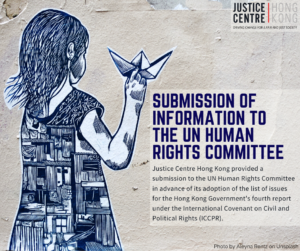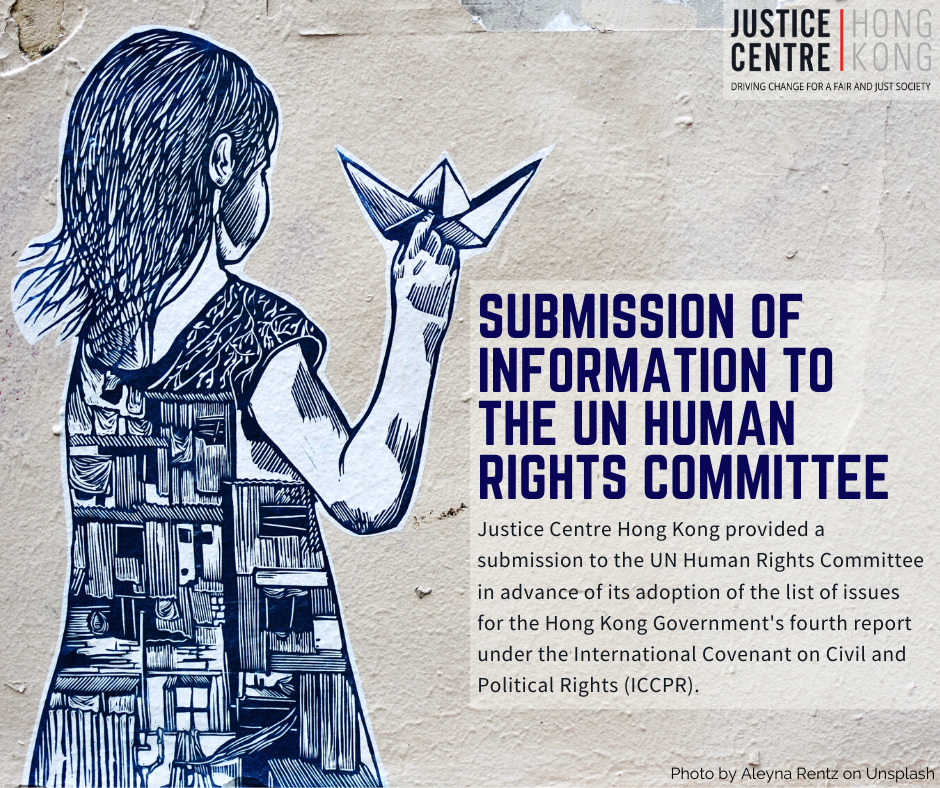 Justice Centre Hong Kong provided submissions to the Electoral Affairs Commission (EAC) 's consultation on the Proposed Guidelines for the upcoming Legislative Council election.
In March 2020, Justice Centre Hong Kong made a submission to the United Nations Working Group on Arbitrary Detention (WGAD)'s study on arbitrary detention relating to drug policies. We discussed the exploitation, criminalisation and consequent detention or imprisonment of potential or actual victims of human trafficking and other victims of exploitation in the drug trade as observed in Hong Kong.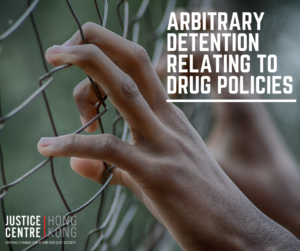 find our past newsletters
Protecting Refugee Children
World Refugee Day Celebration
Human Trafficking Panel Discussion
Young Advocates Spring Programme
Below one percent – this is the success rate of asylum applications in Hong Kong. In other developed regions, the success rate stands at 30-40%. Asylum seekers in Hong Kong often have to wait for years, even a decade, only to have their claims rejected.
Hong Kong has a rich refugee history, from those who fled here during the Chinese Civil War or Cultural Revolution, to the Vietnamese "boat people" fleeing the aftermath of the Vietnam War, to people currently seeking protection in our city.
We need a Social Welfare Assistant to help with our work in providing direct assistance to refugees, asylum seekers and other brave survivors of human rights violations we serve.
We need a Legal Casework Volunteer to help with our work in providing direct assistance to refugees, asylum seekers and other brave survivors of human rights violations we serve.
Join us on June 19 for a virtual screening session in celebration of World Refugee Day (20 June), followed by a panel discussion with refugees in Hong Kong and representatives from UNHCR Hong Kong, Consulate General of Canada in Hong Kong & Macao, Branches of Hope, and Justice Centre Hong Kong!
Justice Centre Hong Kong was glad to learn that one of our refugee clients, Claudine (not her real name), was recently granted Permission to Work by the Immigration Department on a discretionary basis.
Do you want to learn how to use the law to make a difference? Would you like to get hands-on experience of assisting people seeking asylum in Hong Kong? If so, apply for the Hong Kong Human Rights Law Clinic 2020 today!
Amidst the pandemic, Justice Centre Hong Kong were proud to help our clients and their loved ones celebrate Eid. On this very special occasion we were delighted to prepare and distribute dozens of food bags, which included many favourite ingredients, for what we hope was a delicious iftar.
Justice Centre Hong Kong is pleased to sign the Racial Diversity & Inclusion Charter For Employers upon the invitation of the Equal Opportunities Commission to reiterate our support for racial diversity and inclusion in the workplace.
Run for charity! You could take part in FringeBacker Covid-19 Hong Kong Virtual Marathon without being in Hong Kong & you could support the work of Justice Centre Hong Kong while staying healthy and fit!
Justice Centre Hong Kong was pleased to learn that one of our refugee clients, Alice (not her real name), was recently granted Permission to Work by the Immigration Department on a discretionary basis.
Let us all be reminded on International Day Against Homophobia, Transphobia and Biphobia #IDAHOT that no one in the world should ever be afraid to walk down the street holding the hand of the person they love, or being who they want to be 🌈
We are pleased to announce the successful appeal of two of our refugee clients from the Horn of Africa. After 7 years of uncertainty, they have both been granted protection in Hong Kong.
Justice Centre Hong Kong joins the UN Committee on the Rights of the Child's calls upon States to protect children's rights amid the COVID-19 pandemic.
A big thank you to our pro bono partner Latham & Watkins for their detailed legal research support on the topic of habeas corpus in the context of immigration detention.
Today, on the International Day for the Right to Truth concerning Human Rights, Justice Centre Hong Kong echoes the importance of the right to the truth.
In these challenging times, Hong Kong must stand by refugees, asylum seekers, victims of human trafficking, migrant domestic workers, ethnic minorities and other marginalised communities against racism, prejudice, intolerance and xenophobia.
A big thank you to our pro bono partner Freshfields Bruckhaus Deringer for helping us approach one of their preferred professional translation service providers SDL plc. They agreed, on a pro bono basis, to translate our client feedback forms into our clients' 11 most used languages. They did an excellent job, with a four-day turnaround time.
Justice Centre Hong Kong join the UN General Assembly President Tijjani Muhammad-Bande's call on everyone everywhere, to defend gender equality together as a necessity in upholding human rights.
With the help of our pro bono partner Freshfields Bruckhaus Deringer, we have lodged separate complaints to the Office of the Ombudsman in February 2020 over the HKSAR Government's failure to offer data on the Unified Screening Mechanism.
We were delighted to learn of the recent successful resettlement of one of our refugee clients from the Horn of Africa to the United States. Prolonged by policy changes, our client waited 6 years after the substantiation of his asylum claim for the resettlement process to be completed.
A new vision… The 2020 Hong Kong Human Rights Arts Prize is now accepting submissions.
After nearly 5 years of dedicated service, Piya Muqit has stepped down as the Executive Director of Justice Centre Hong Kong
ZN v. Secretary for Justice, Director of Immigration, Commissioner of Police, Commissioner for Labour [2019] is a landmark case that examined the interpretation of Article 4 of the Bill of Rights Ordinance ("BOR4") and whether it included human trafficking. The key issues were whether the protection derived from BOR4 covers human trafficking and whether a positive duty existed for the government to enact a specific criminal offence against human trafficking. The Court of Final Appeal ("CFA") delivered its written judgement last Friday afternoon (January 10).
We were delighted to learn of the successful appeal of one of our refugee clients from Yemen.
The below beautiful poem is written by an asylum seeker that Justice Centre Hong Kong supports.
Our Executive Director Piya Muqit wrote in SCMP, Stand News and Citizen News about why the Hong Kong Government needs to establish an independent commission of inquiry. This should examine the Hong Kong Police's excessive use of force, which may have already amounted to torture or cruel, inhumane or degrading treatment or punishment (CIDTP) under the United Nations' Convention against Torture.
Our Executive Director Piya Muqit spoke at the UN Human Rights Council in Geneva on behalf of the International Rehabilitation Council for Torture Victims and Justice Centre, highlighting the recent disproportionate use of force by the Hong Kong Police.
Join Justice Centre Hong Kong and the Hong Kong refugee community on the 25th August 2019 to cycle through the streets of Hong Kong.
This years winners were announced on 8th December 2018 at the Hive Spring where the public exhibition ran until Friday 11th January.
Refugees,  asylum seekers and torture claimants  constitute  less  than one percent of Hong Kong's (HK) population. However, the law imposes extensive restrictions on their right to work.
Justice Centre Hong Kong calls on Hong Kong to adopt comprehensive legislation to combat human trafficking.
On June 7, about three weeks before the International Day in Support of Victims of Torture, the Hong Kong Legislature invited residents to speak with them at the "Legislative Council Complex" ('LegCo Complex') about the United Nations Convention Against Torture and Other Cruel, Inhuman or Degrading Treatment ('UNCAT').
We present an original poem by Saleban, a refugee from an African country and a graduate of our Voices for Protection advocacy traineeship.
To celebrate World Refugee Day on 20 June, we are proud to present Rock for Justice, a live music event, kindly hosted by Orange Peel and generously co-sponsored by Freshfields Bruckhaus Deringer, Lexis Nexis and Macquarie.
Let me ask you, can you imagine living a life away from your home, in a situation where you had to leave your loved ones behind and seek asylum in Hong Kong?
Interpretation is essential because our service users are survivors of war, persecution, and torture that have found themselves in a country and culture foreign to them.
Last week, I accompanied my colleagues and several refugees to observe the Legislative Council's ("LegCo") Panel on Security meeting. The session was to discuss the Hong Kong Government's comprehensive review of the strategy of handling non-refoulement claims, including the Unified Screening Mechanism (the government's screening process for asylum claims, or the "USM").
Refugees have recently made the headlines in Hong Kong's local newspapers.
When people hear about the work of Justice Centre they always ask, "What can I do to help?". It's a question that I asked myself. Consequently, last September marked a significant change for me; I took a sabbatical from a successful nine-year career in the financial sector to become Justice Centre's Fundraising Manager.
If Chief Executive Leung's recent remark that HKSAR could "quit" the Convention against Torture was meant as a joke, he isn't getting many laughs. Least of all because his timing is off – just over a month ago the Committee against Torture (CAT) released its concluding observations from its fifth periodic review of the HKSAR territory.
On my first day at Justice Centre I remember I was asked what I thought about refugees. After a slight hesitation, I answered, "The media says some are bogus refugees who come to Hong Kong intentionally for economic benefits". However, the more I researched refugee issues as part of my work at Justice Centre, the more I found out how biased the Hong Kong mainstream media can be in its coverage.
Last week was a pretty exciting week for our team, fresh from our first Human Rights Week 2015, which came to a close with the Hong Kong Human Rights Arts Prize 2015 Awards Ceremony and Charity Auction at the Fringe Club.
Only one week to go till the launch of Human Rights Week 2015! Are you as excited as we are?
The Justice Centre team is proud to bring to you Human Rights Week 2015 in the run up to International Human Rights Day (December 10)! Human Rights Week aims to provide a platform for the public to celebrate and learn about human rights through the arts, talks and activities for the whole family.
My grandfather was a refugee from Hungary who went on to live in Belgium and had refugee status for almost 30 years. He had survived terrible deprivations, amongst them several years in a Russian gulag (forced labour camp). The effects of his experiences on his personality left a profound impact on me: he never locked his house, should anyone need shelter. He invited every street vendor into his home, and said that when everything is taken away, only kindness and love is left to share with others.
This week, Justice Centre as well as other civil society members had the opportunity to address the Legislative Council Panel on Security (LegCo Panel) in advance of Hong Kong's periodic review by the UN Committee against Torture in Geneva later this month.
This week, we interview David (name changed), a refugee from the Middle East who joyfully told us about winning the elections to be on the board of the Parent-Teacher Association (PTA) at his children's school. Refugees are largely invisible in Hong Kong, and because of this, there are never enough stories about how refugees can and do positively contribute to their local communities. When we heard David's story, we just knew we had to share it with you.
We are creatures of narratives. From our sophisticated moral code, to why you bought that iced skim milk latte this morning, our actions have reasons rooted in one story or another. Stories are simple things which help us understand the world, but they do demand one thing: for the audience to listen with an open heart, at least until the end of the tale. This is a story of hip hop and our journey of reflecting social injustices through the power of personal stories.
find our past newsletters
Protecting Refugee Children
World Refugee Day Celebration
Human Trafficking Panel Discussion
Young Advocates Spring Programme