Posted by Jordan Johnson
On June 7, about three weeks before the International Day in Support of Victims of Torture, the Hong Kong Legislature invited residents to speak with them at the "Legislative Council Complex" ('LegCo Complex') about the United Nations Convention Against Torture and Other Cruel, Inhuman or Degrading Treatment ('UNCAT'). In anticipation of coming elections, in January this year Hong Kong's Chief Executive, Leung Chun-Ying, suggested pulling out of the UNCAT to deal with what has been described as Hong Kong's "fake" refugee problem. With a laptop and a few colleagues from Justice Centre Hong Kong, I went to the LegCo Complex to take notes ahead of the next session on UNCAT when our Executive Director would give a deputation about protecting torture survivors.
The LegCo Complex is an awe inspiring display of wealth fitting for the "multimillionaire capital of the world." Walking through the building, one has the impression of living some twenty years in the future. The outer walls are "double-layered," "ventilated" glass "curtains", which apparently cool the building while still flooding its centre with light. On the roof, "a variety of plants" provide a "green landscape" and "reduce solar heat gain." The escalators, we quickly discover, are motion activated, a source of some confusion and several momentary losses of balance on June seventh. Beside electronic lockers, grey suited attendants wait to hand you a receipt that prints automatically.
1 protection claimant: 20 millionaires
While a rise in the number of people seeking asylum has caused concern throughout the world, Hong Kong citizens have, according to any objective measure, very little to worry about. There are only about 11,200 people seeking protection in Hong Kong; in other words, far less than one percent of the population. For some points of reference: in Hong Kong there are over 200,000 millionaires; which is to say, about twenty millionaires for each protection claimant; in Turkey there are now nearly three million refugees; in Greece, a country with a population about the size of Hong Kong's and an economy that is significantly smaller, there are nearly four times more people seeking protection than in Hong Kong.
Not only are there few protection claimants coming to Hong Kong, the government currently operates one of the least generous protection systems in the developed world. The Immigration Department, in ostensible accord with international standards, assesses whether protection claimants face a real risk of torture, persecution, cruel, inhumane, or degrading treatment if returned to their country of origin. However, while recognition rates internationally are around 30%, in Hong Kong only 0.6% of protection claimants are found by the authorities to face such risk/s. In addition, Hong Kong has not signed the 1951 UN Refugee Convention and does not recognise anyone as an actual "refugee"; those who are fortunate enough to make it into the 0.6% are simply safe from removal until the UN Refugee Agency is able to find another country willing to accept them for resettlement, depending on their case.
Rhetoric
After being handed our locker receipts, we have our way to the conference room pointed out by more grey suited attendants positioned crumb-like, every four or five meters along the path. In the upper mezzanine of Conference Room One, the seats and carpet match the grey of the attendant's uniforms, which I notice has an azure tinge that seems in keeping with the Complex's "Sky is Always Blue" design theme and its commitment to harmony with the natural environment; both of which you can read about at length on the Legislative Council's website. Among the many "green-features" described online, I am most impressed by the coruscated "natural light funnel," which directs and scatters sunlight into the Council's Chamber "minimiz[ing] the use of artificial light." Before finally sitting down, we are handed headphones so that we can hear, in one of three languages, what brought each speaker to the Complex today.
The first speaker oddly has not prepared any remarks, but speaker two enthusiastically introduces the theme of the session: the legislature needs to do more to protect residents from protection claimants. After describing himself as an "ordinary citizen," a self-description we'll hear again and again today, he goes on to say that "refugees" are responsible for threats, murder, and violence; that they're a "cancer" that needs to be excised; that Hong Kong has spent billions of taxpayer dollars on them. He quickly continues, testing my transcription skills and surely the skills of the live translators, insisting that they're not "real" refugees, they're using "legal loopholes" to come to Hong Kong and make money, and that Hong Kong needs to be more severe to prevent others from coming.
At the three minute mark he is cut off abruptly and speaker number three begins. It turns out there is a three minute rule that is strictly enforced, obliging the following speakers to compress their worries into what turns out to be one sonata like recitation of xenophobic motifs after another, all of which you could hear pretty much anywhere in the world. Donald Trump's Mexican-rapist remark is echoed, though here it is used in reference to Southeast Asians. Hong Kong "No-Go Zones" are referred to in different terms. You can hear France's Marine Le Pen in claims that Hong Kong's culture is being threatened, and, most jarring, you can hear echoes from Europe's past in demands that the refugees be placed in closed camps.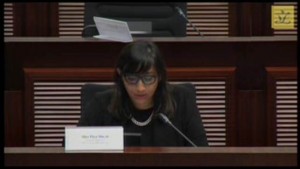 While the rhetoric is in most respects generic, there remains, nonetheless, a flavour of the local. There is no more familiar a claim than "we would like to help torture survivors and other people seeking protection, but we just don't have the means." The Hong Kong variation on this theme has the speakers arguing, with only an occasional sense of irony, that Hong Kong is weak, is a child, is poor in relation to the West that is strong, adult, and rich. Respect for human rights, it is argued repeatedly, is fine for the adult West, but Hong Kong is simply not capable of providing protection for refugees, even if it wanted to - though to be sure it is clear these speakers do not want it to. An older man who makes this argument goes on to explain that while Hong Kongers fight with fists, refugees fight with spades, chains, and cement bags.
A system to exclude
Near the end of the session, I'm having trouble transcribing the increasingly rapid speeches, and I am not being helped by the seemingly exhausted translators who are now switching off mid-speech. Mercifully, a woman begins to speak in slow, deliberate English. After thanking the legislature for the opportunity to speak, she says her name is Adella, she's a protection claimant from Africa, and she needs the government's protection. She does not tell us why she fled her country, but the threat she faces in Hong Kong is felt palpably in a room full of Hong Kongers who appear to consider her part of a cancer. She goes on to suggest what should be obvious: the government's asylum policies, which reject 99.4% of claims and offer a life of legal limbo to the remaining 0.6%, function to deny meaningful protection to the one person in the room who actually needs it. After the session finishes, we see Adella on our way out of the Complex surrounded by photographers with snapping cameras. It is common now for protection claimants to hide their face in similar situations for fear of being targeted by the government or other Hong Kongers, but Adella just smiles nicely and keeps walking.
The Legislative Council Complex was completed in 2012 as a part of the larger five billion dollar Tamar Project. The project includes the massive Central Government Complex built to resemble an open door and the 17,000 square metre Tamar park with "spacious green lawns, rolling out like 'green carpets" to the edge of Hong Kong's "picturesque Victoria harbour." The Legislative Council website explains that the design was meant to "integrate both elements of...openness and empathy." While Hong Kong's judiciary has made meaningful reforms aimed at providing protection for torture survivors and other claimants, the effect has been to create the appearance of protection while reinforcing a system designed to exclude. One hopes that the legislature will overcome the politics of fear so that in twenty years time, when we're all used to motion activated escalators and a little more natural light indoors, Hong Kong's commitment to openness and empathy won't be realized in architecture alone.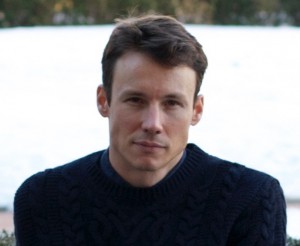 Jordan Johnson is a member of the Protection Claimant Services team at Justice Centre Hong Kong. He is an American student pursuing a JD from Columbia Law School and a masters degree in Economic Law and Global Governance at the Sciences-Po École de Droit in Paris.