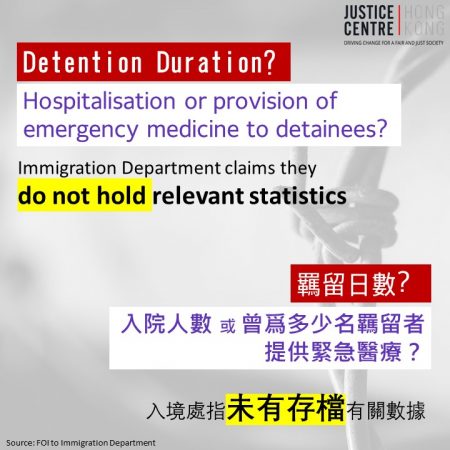 Who are being detained at Hong Kong's immigration detention centres?
Where are they from?
How long have they been detained?
Are children being detained?
How many asylum seekers are detained?
The lack of publicly available information on immigration detention makes it difficult to accurately assess the prevalence of detention in vulnerable communities.
Information is crucial for formulating evidence-based discussions and policies on immigration detention in Hong Kong. This is why we are publishing a series of posts to highlight some facts, statistics and legal principles on this issue. Share and like this post to stay tuned. Also follow CIC detainees right concern group for more information.
See here for our information request where the Immigration Department said they did not hold statistics on detention duration of detainees and provision of emergency medicine or hospitalisation: https://accessinfo.hk/en/request/statistics_on_immigration_detent
【誰被羈留在入境事務處羈留中心内?他們來自哪裏?他們被羈留了多久?有沒有兒童被羈留?有多少名尋求庇護者被羈留?】
缺乏有關入境羈留的公開資料令相關機構不能準確地評估權利容易受到侵犯的社群被羈留的普遍性。
資料和數據是開展、制訂有關入境羈留的循證討論和政策中不可缺少的一環。有見及此,我們將公佈我們取得有關入境羈留的數據,實況和法律原則。分享和按讚此貼文來關注此議題。你更可以追蹤 CIC detainees right concern group 來收取更多資訊。
請透過以下連結瀏覽我們早前就羈留日數和緊急醫療服務向入境事務處提出的索取公開資料要求: https://accessinfo.hk/en/request/statistics_on_immigration_detent ( 只備英文版本 )