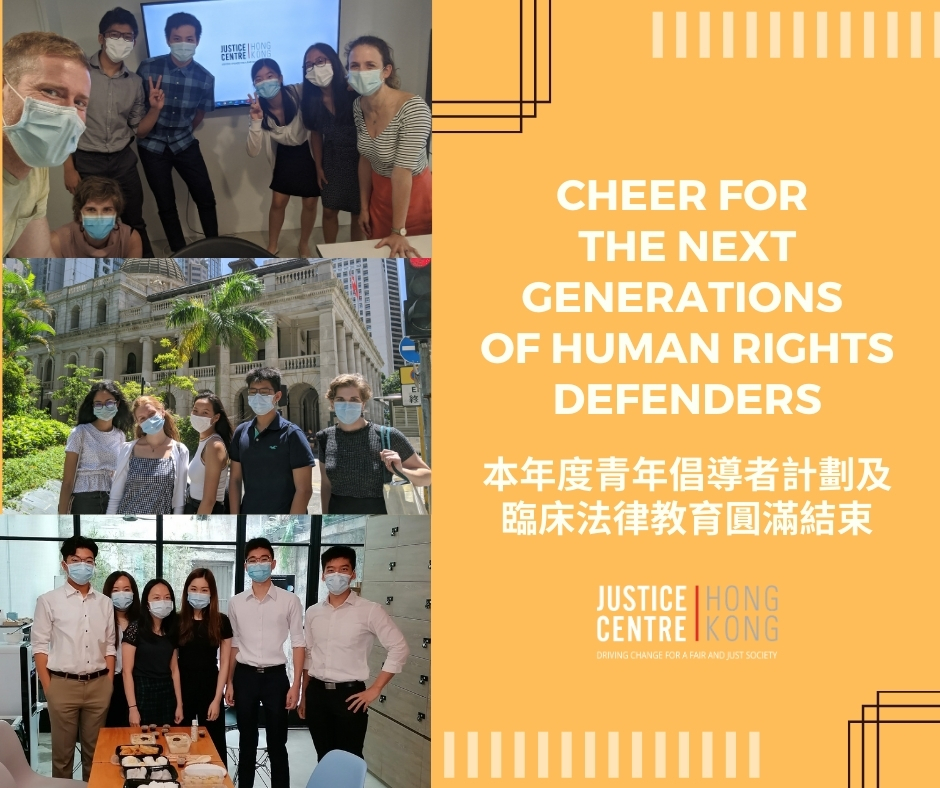 Cheer for the Next Generations of Human Rights Defenders!
As summer ends, it also means the completion of our Hong Kong Human Rights Law Clinic for Hong Kong-based university law students, and the 2 sessions of the Young Advocate Programme for high school students.
We would like to congratulate and thank all participants for the successful clinical education programmes this year. Because of their passion and dedication, we are very hopeful about the next generations of human rights defenders in Hong Kong.
Although we are saying farewell to these groups of bright young talent, we are sure our paths would cross again soon as they continue to fight inequalities with the additional knowledge and skills they have gained from our programmes.
【本年度青年倡導者計劃及臨床法律教育圓滿結束】
每年暑假的結束也標誌著我們分別為大學法律系學生而設的臨床法律教育計劃,以及兩節供高中生參與的青年倡導者計劃的完結。
我們在此恭喜及感謝所有參加者的參與。他們的熱情和奉獻精神令我們對香港新生代的人權捍衛者充滿冀盼和希望。
雖然2020年的教育計劃已經完結,但我們深信所有參與者會繼續運用在計劃中學習到的知識和經驗推動社會公義和公正,而日後大家必定會在捍衛人權的道路上重新遇上。