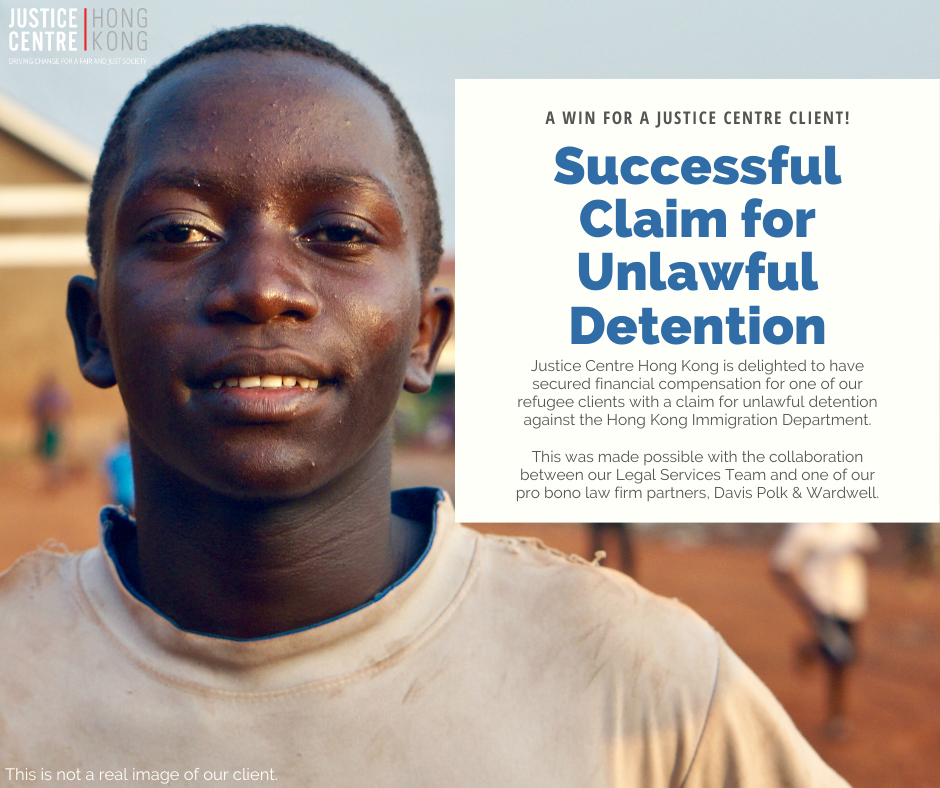 A WIN FOR A JUSTICE CENTRE CLIENT!
Justice Centre Hong Kong is delighted to have secured financial compensation for one of our clients. Aron (not his real name), is a recognised refugee who filed a claim for unlawful detention against the Hong Kong Immigration Department.
Aron fled his home country after being tortured in state detention. He came to Hong Kong seeking protection, but was instead placed into immigration detention. Speaking no English or Chinese, he was never told in a language he understood why he was being detained nor for how long. Under Hong Kong law, the authorities only had the right to detain Aron for more than a few days, or otherwise where he could be safely removed from Hong Kong within a reasonable period of time. Aron had already made a claim for protection, which meant he was not realistically going to be removed for some time. As a former victim of torture, in line with international standards, he should have only be detained in exceptional circumstances. Despite this, the authorities deprived him of his liberty for more than two months. Almost four years later, Aron was recognised as a refugee by the Hong Kong Government, but had still not received any redress or even an apology for his detention, from which he is still suffering psychological after-effects.
By collaborating in Aron's case with our pro bono partner lawyers, Davis Polk & Wardwell, we are all thrilled to have helped Aron achieve some sense of justice for this breach of his fundamental human rights. While no amount of money can make up for the impact of detention, Aron plans to use the compensation to help with his children's education, so the family can rebuild their life as they await resettlement in a third country (Hong Kong does not allow recognised refugees to resettle in Hong Kong).
Aron says "I would really like to thank all of my lawyers and all staff at Justice Centre and my caseworker. They have worked so hard for no compensation. Even though I'm a refugee, they believed in my rights simply as a human. For me, it's not about the money, but about the dignity they gave me. They treated me so well, even when I was late for appointments, they respected me and helped me. I hope that others that need this help can get it."
Justice Centre Hong Kong continues to voice our concerns following first hand reports of appalling conditions in Hong Kong immigration detention centres, including poor hygiene, overcrowding and limited access to professional healthcare or legal representation. We hope that cases like this will encourage compassion and positive change in the use of immigration detention and conditions within relevant centres. We feel that it is to the mutual benefit of all to avoid the devastating impact that prolonged detention can have on the mental health and well-being of victims of torture, and those most vulnerable in Hong Kong society.