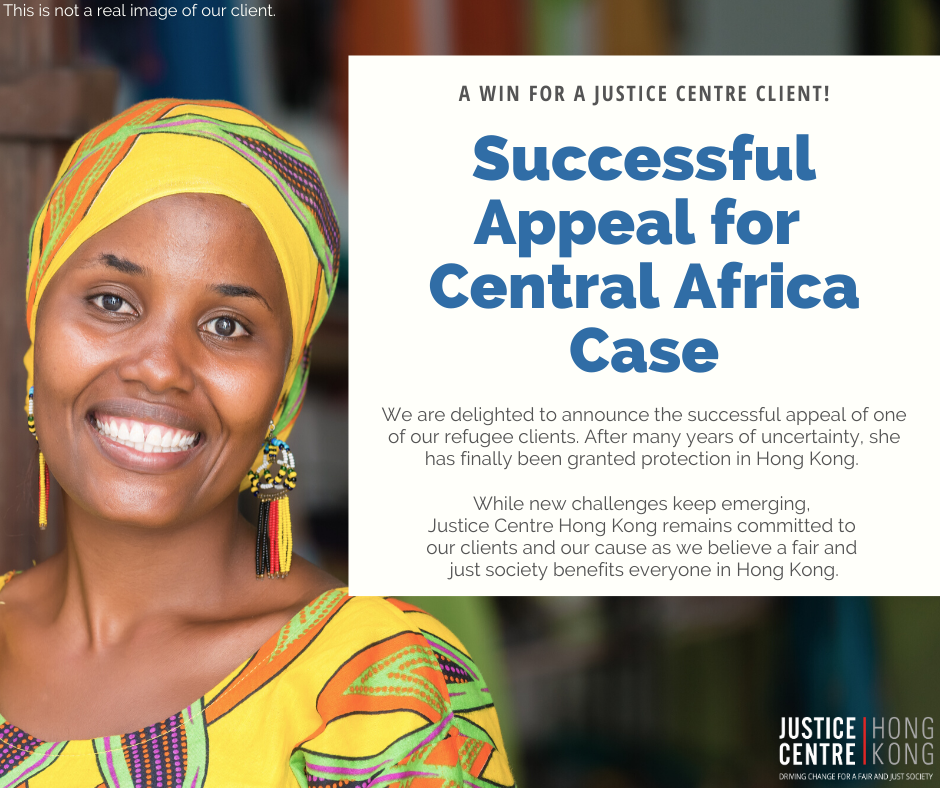 A WIN FOR A JUSTICE CENTRE CLIENT!
We are delighted to announce the successful appeal of one of our refugee clients. After many years of uncertainty, she has finally been granted protection in Hong Kong.
The client fled a country in Central Africa after she was accused of witchcraft. In some African cultures, belief in witchcraft is widespread [1] and used to explain misfortune [2]. Those accused of being a witch are often ostracised from their communities, seriously harmed and even killed [3]. Our client was able to escape years of violence and threats made against her life.  Many can't.
Justice Centre provided essential Country of Origin evidence on these issues, and assisted the client to prepare her testimony. On appeal, Justice Centre assisted the client to obtain legal representation from the Duty Lawyer Service. As a result, the client successfully appealed the Immigration Department's initial decision to refuse her claim.
Stories like this are a genuine testament to just how life-changing Justice Centre Hong Kong's legal services can be for our clients. Although new challenges keep emerging, Justice Centre is a member of a community dedicated to the service of the most vulnerable in Hong Kong. We remain committed to our clients and our cause as we believe a fair and just society benefits everyone in Hong Kong.
Join us in helping the communities we serve by supporting our work here or learn more about our pro bono programmes here. 
References:
[1] Witchcraft in Africa and the World. Last updated 29 June 2020. https://www.britannica.com/topic/witchcraft/Contemporary-witchcraft
[2] Witchcraft in Africa: Political Power and Spiritual Insecurity from the Precolonial Era to the Present. Last update March 2019. https://oxfordre.com/africanhistory/view/10.1093/acrefore/9780190277734.001.0001/acrefore-9780190277734-e-441.
[3] Witchcraft belief is a curse on Africa. Last updated 1 March 2012. https://www.theguardian.com/commentisfree/belief/2012/mar/01/witchcraft-curse-africa-kristy-bamu