Posted by Virginie Goethals
This week we are excited to have Virginie, from our partner Free to Run, blog about her experience of organising hiking and track training groups for refugees in Hong Kong. Free to Run is an NGO that aims to use the power of sport to change lives and communities in areas of greatest need, particularly to empower and educate females in conflict-affected communities.
My grandfather was a refugee from Hungary who went on to live in Belgium and had refugee status for almost 30 years. He had survived terrible deprivations, amongst them several years in a Russian gulag (forced labour camp). The effects of his experiences on his personality left a profound impact on me: he never locked his house, should anyone need shelter. He invited every street vendor into his home, and said that when everything is taken away, only kindness and love is left to share with others.
My grandfather passed away as I launched my career as a corporate lawyer in New York, but my pro bono work was often refugee-related, letting him slowly back into my life. Three young kids and moving around in Asia made me re-evaluate my career, and I have not looked back since starting to be involved with Free to Run, which I heard about through its founder, my friend Stephanie Case.
This formidable NGO creates and supports an environment for women and girls in conflict zones, like South Sudan or Afghanistan, to participate in sport and physical education. Free to Run also reaches out to women and girls that are escaping war, torture and human cruelty. Very recently, I worked with two amazing Afghan women to participate in a 250 km self-sustained race, and we crossed the finish line with them as the first Afghan ultra-running team. Free to Run is now a new way to see life for me.
I truly believe that running and hiking is extremely empowering and can help anyone overcome their past and troubles. Refugees, particularly female refugees, don't have a chance to access much sport or physical activity in Hong Kong. It's usually the women who have to be home with the children, who are here as single parents or who, for cultural or language reasons, may find it difficult to access public space. Also, many of these women suffer from mental trauma as a result of their experiences. This is why, in June this year, together with a bunch of tireless Free to Run volunteers, help from the Hong Kong running community and Justice Centre's support, we launched two initiatives: a "Hiking to Heal" programme for 20 refugee women and a mixed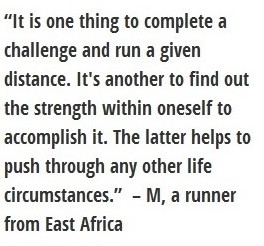 gender 'Run for Justice' track-training group. From the trainings, it's been amazing to see that the participants in both the women's hiking programme and the track-training group seem happier; they seem healthier; I think they feel they can enjoy the moment and not worry all the time about their legal case or what will happen to them. It structures their week and gives them a goal to work towards.
I am so proud to announce that these wonderful athletes will be participating in their first 10K running race on November 29, and more hiking programs mainly for refugee women are in the starting blocks. They are raring to go, but they need your support! Please visit the Run for Justice JustGiving page, sponsor them and share within your networks. Funds raised will go towards Justice Centre and Free to Run.
It is true that working with refugees means also letting them into your life, and during the hiking and running activities, we share our joys, frustrations and hopes together as true friends. The refugees that I have met through those programs have a pure kindness that is sometimes hard to find in our overly materialistic world. Having experienced the worst, they know the real meaning of love. They humble me to the bone, and truly deserve the best of life. Free to Run just tries to help them to run over the starting line of a new life.
Join us in cheering for our superstar Run for Justice team – donate via the JustGiving page, leave them words of encouragement and share!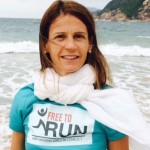 Virginie Goethals is a Belgian mum, a lawyer and is on the Board of Directors for Free to Run. She is also a keen distance runner.