Posted by Deborah Papworth
There have been more than a few days which I can recall where I have woken up and wished for a day off from work. But then I think – what if I was to be completely deprived of the right to work at all? What if the government took away my freedom to use my skills, earn a living, support myself or contribute to society?
"We just want to be able to work"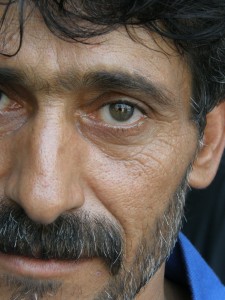 This is the harsh reality for refugees in Hong Kong who are prohibited from working whilst they wait for their claims to be determined, and is still the situation even after they have been recognised as refugees, except for the rare occasion when the Director of Immigration considers that there are "exceptional circumstances". A recent challenge to this position before the Court of Final Appeal was unsuccessful.
Refugees may be stranded here for years awaiting the determination of their claims or for resettlement to another country. They are thus forced to rely on meagre assistance provided by the government, imposing further indignity upon individuals who have already survived grave injustices. If you speak to refugees in Hong Kong, you will find that they don't want hand-outs, but they just want to support themselves and to survive here with dignity. They tell us, "We just want to be able to work!"
The freedom to work is fundamental to human dignity
The right to work is inherently intertwined with many other rights, such as the right to an adequate standard of living and to security of family life. It is also fundamental to human dignity. Depriving refugees of the right to work takes away their freedom to be self-sufficient, prevents them from using their skills, and exacerbates societal discrimination. Most of all, it robs them of the ability to re-establish their worth as human beings.
On a more practical level, as government assistance is paid directly to landlords or in the form of bags of food, this leaves refugees with no cash in hand to meet other needs. They are therefore often forced to turn to the informal labour market, sometimes undertaking dangerous, degrading jobs and becoming susceptible to exploitation. Imagine the types of dangerous situations a young woman, with no legal way to support herself, might be exposed to. This risk is particularly acute when one considers how vulnerable refugees might be, on account of their gender, ethnicity or trauma they've experienced, for example.
Working refugees can only benefit Hong Kong
Countries which exclude refugees from the labour market frequently resort to that over-used and poorly analysed argument of not wanting to "open the floodgates" to job-seekers. There is also the misguided fear that the local population would be displaced from the labour market by refugees who would "take all the jobs". But empirical studies show that there is no evidence that more refugees seek asylum in a state that has granted employment rights. In any event, excluding refugees from the labour market doesn't necessarily remove the "competition" for jobs – it merely pushes it underground, to the detriment of the local population. Possible abuse of the system should be addressed by having a well-equipped refugee screening process which determines cases efficiently and fairly.
Those awaiting determination of their claims or who are recognised refugees can play an important part in the community. They may fill labour gaps, bring new skills, contribute to stimulating economic growth, and even create jobs. Hong Kong society can surely benefit from such enrichment.
Work as a human right
Notwithstanding the Court of Appeal's findings and its interpretation of our international obligations, the right to work is enshrined in various international human rights treaties. Amongst others, Article 6 of the International Covenant on Economic and Social Rights recognises the "right of everyone to the opportunity to gain his living by work which he freely chooses of accepts". The Hong Kong government's policy on refugees' access to the labour market ought to be brought in line with this rights-based framework.
Giving refugees the right to work makes sense. It respects their basic human rights; it complies with our international legal obligations; it benefits Hong Kong. But above all, it affords refugees that most basic of human needs – dignity.