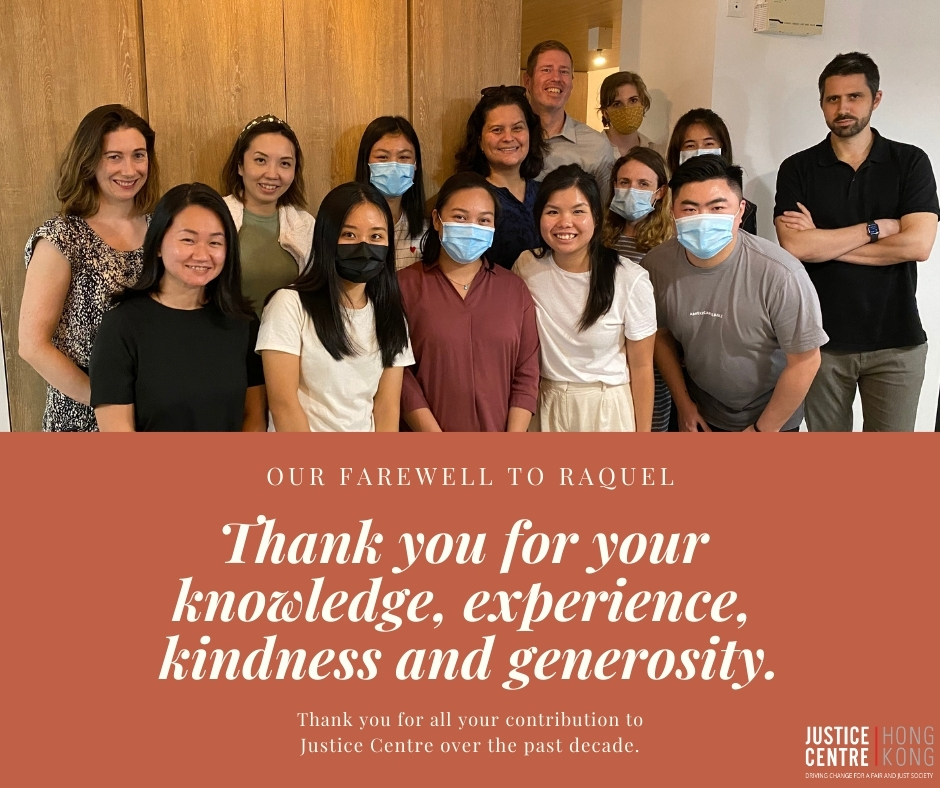 Raquel Joining Justice Centre's Board!
In September we said farewell to Raquel Amador, our Welfare Advisor.
Not only has Raquel fulfilled this role for us over the past 2 years, helping our clients with their social welfare needs, but she is also the original founder of Justice Centre (then the Hong Kong Refugee Advice Centre) in 2007. All of our staff and clients will miss the benefit of her deep knowledge and experience in the sector, as well as her kindness and generosity.
Fortunately, Raquel will be bringing her expertise to our Board of Directors so we are thrilled she will remain part of the Justice Centre family.
【歡迎 Raquel 加入 Justice Centre 董事會】
在九月,我們歡送了我們的社會福利顧問 Raquel Amador。
Raquel 不但在過去兩年擔任此職位,為我們的受助者提供社會福利協助,他更是 Justice Centre 在2007年的創辦人(當時機構名為 Hong Kong Refugee Advice Refugee)。Raquel 的豐富經驗、知識、善心和慷慨大方將永存我們團隊和受助人心中。
我們十分榮幸 Raquel 將會把她的專業知識帶到我們的董事會中,並繼續留在Justice Centre 這個大家庭!