Posted by Ian Lam
"In pain, I was drained in both body and mind
But gotta find my own way, walk the thin line." - Find My Own Way (MC Anjum)
We are creatures of narratives. From our sophisticated moral code, to why you bought that iced skim milk latte this morning, our actions have reasons rooted in one story or another. Stories are simple things which help us understand the world, but they do demand one thing: for the audience to listen with an open heart, at least until the end of the tale. This is a story of hip hop and our journey of reflecting social injustices through the power of personal stories.
The story behind the label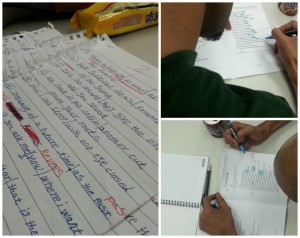 Having worked with asylum seekers for a period of time to help them in the USM claim process, I felt I was always at arm's length from the population. Interviewing clients for their asylum claims as a law firm student intern or as a Justice Centre volunteer gave me insights into their individual plight. Research into their countries of origin gave me a general idea of what they were fleeing from. Yes, I had a grasp of the facts necessary to support an asylum claim, but I had no understanding about their experience in Hong Kong or back at home. Who were they, really, behind the mere label of "asylum seeker" or "refugee"?
It then hit me – with language and cultural barriers, no ability to integrate in Hong Kong and concerns about their security – refugees have little means to tell their own stories. Knowing this, my partner Aston and I (via our group Thought Experiment Hong Kong) started the Voices for Expression: Rap & Poetics workshop series with the Social Justice Alliance, a refugee-led community group supported by Justice Centre. Driven by the hip hop philosophy of expressing one's raw personal narrative through music, the project aimed to help participants to develop the tools to express themselves in rap/poetic verses over the course of six workshops that were hosted at The University of Hong Kong, courtesy of HKU Law Faculty's Centre for Comparative and Public Law (CCPL).
Voices for Expression
The start of the workshop was not easy; I felt that a life of constant struggle and fear had conditioned some of the participants to protect themselves by expressing as little information as possible. Yet, although breaking the ice was difficult, their passion to learn soon flooded the classroom. I was genuinely surprised when the workshop participants profoundly empathized with the personal aspect portrayed in rap/poetry. They dug deep to articulate difficult experiences in their own words, despite many not having English as a first language.
Then came the hard social justice questions that hip hop inevitably deals with: discrimination, economic segregation, and the power of community representation. I had initially assumed that the discussions would be largely driven by their personal experiences, but I couldn't have been more wrong - their level of political insight into the composition of institutional structures and intricacies of different modes of governance bordered on academic.
What really surprised me was the will to learn and perfect their craft. One participant in particular barely spoke English when he arrived in Hong Kong, but he wrote and rewrote his lines and practiced fiercely to capture the exact tone of expression - all to convey his thoughts to you, the listener. Another participant, eager to learn, stayed long after class to discuss the details of music production and sound editing.
Telling the story
As the workshop series drove on, each Emcee grew in ability and confidence, and their thoughts slowly blossomed into their verses: MC AKK's "To Leave Your Country" tells a tale of a young man leaving his violent homeland, with traces of homesickness echoing in the background. MC Ray, with a deep empathy of those shackled in suffering, chains his words to ignite the will to survive and grow in his "Recreate Your Own Path". MC Anjum's "Find My Own Way" details the fear of persecution and the bureaucratic repercussion of being labeled a "refugee" in Hong Kong. MC Tina raps about the daily struggle and psychological torments of an asylum seeker's daily experience in her "Life is Difficult". MC Jawe's "Child Soldier's Life" explores the results of psychological conditioning and the relationship between a state's political will and a soldier's duty. Finally, MC Change's "Africa Unite" is a cry for social unity and ethical politics, also serving as a critique on the state of democracy in Africa. I am proud to announce that you can now download the full album below, with each Emcee's song and written verse.
As I switched off the lights after our final 10-hour recording session, I was humbled. With the warmth of MC Jawe's goodbye hug, I understood that the six Emcees' stories, will and perseverance have been crystallized into the recordings. I hope we have done a satisfactory job and done "justice" to their stories.
I am grateful to the Social Justice Alliance for the seamless collaboration effort and participation in the project, Justice Centre Hong Kong for their endless support and practical guidance, and HKU Law Faculty's Centre for Comparative and Public Law (CCPL) for their generous support in providing access and facilities for the development of the project. And of course, MC AKK, MC Anjum, MC Change, MC Jawe, MC Ray and MC Tina, who have showed me the power of one voice.
"Honor, relight, kindle the freedom of rights
Dispel the shadows as the candles ignite!" - Africa Unite (MC Change)
Ian Lam (aka MC Ember) is a former legal volunteer at Justice Centre and co- founder of Thought Experiment Hong Kong. He is a postgraduate student of law at the University of Hong Kong.
You can now download and listen to the full Voices for Expression album on Thought Experiment Hong Kong's Facebook page! The copyright of the vocal recording and written verse belongs solely to each Emcee.
Social Justice Alliance is a refugee-led community group supported by Justice Centre. The SJA was set up by refugees and prioritises soft advocacy and positive interaction with the Hong Kong population. To find out more about how you can support SJA, please contact Betsey at [email protected]
Thought Experiment Hong Kong is a group co-founded by Aston Law and Ian Lam that seeks to facilitate personal connection and substantive interactions within the city as well as to promote the importance of critical thinking and substantial communications. To find out more about Thought Experiment Hong Kong, please visit their Facebook page or website.