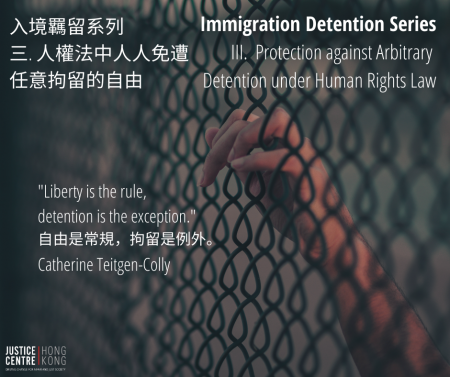 Protection against Arbitrary Detention under Human Rights law
The right to liberty and security is a fundamental human right.
Article 5 of the Hong Kong Bills of Rights, which mirrors Article 9 of the International Covenant on Civil and Political Rights (ICCPR), and Article 28 of the Basic Law guarantee everyone in Hong Kong the right to liberty and security of the person. This means immigration detainees as well as Hong Kong residents are equally protected against arbitrary detention.
The United Nations Human Rights Committee notes in its General Comment 35 that detention authorised by domestic law may still be arbitrary, as arbitrariness includes "elements of inappropriateness, injustice, lack of predictability and due process of law, as well as elements of reasonableness, necessity and proportionality."
Justice Centre secured financial compensation for a recognised refugee who filed a claim for unlawful detention against the Hong Kong Immigration Department. Read about Aron's story
here
Support our work today
here
人人生而平等,任何人應享有人身自由及安全等基本人權,不得無理予以逮捕或拘禁。
《香港人權法案》第5條(比照《公民權利和政治權利國際公約》第9條),以及基本法第28條同樣保障所有在香港範圍內的人均享有人身自由和安全的權利。這代表被羈留人士與香港居民理應享有同等免受任意拘禁的保障。
聯合國人權理事會在第35號一般性意見中指出任何根據本地法律作出的拘留也可構成「任意(arbitrariness)」,因為「任意」的定義是根據「個案是否涉及任何不適當、不公義的因素、是否缺乏法律所要求的可預測性及正當程序,以及依照合理性、必要性和相稱性而作出的考量。」
Justice Centre 早前成功協助一名難民就其向香港入境處提出的非法拘留民事索償中取得賠償。在我們的網頁上閱讀Aron的
個案
從今天起
支持我們
的工作