Finalist Artworks of the Hong Kong Human Rights Art Prize 2021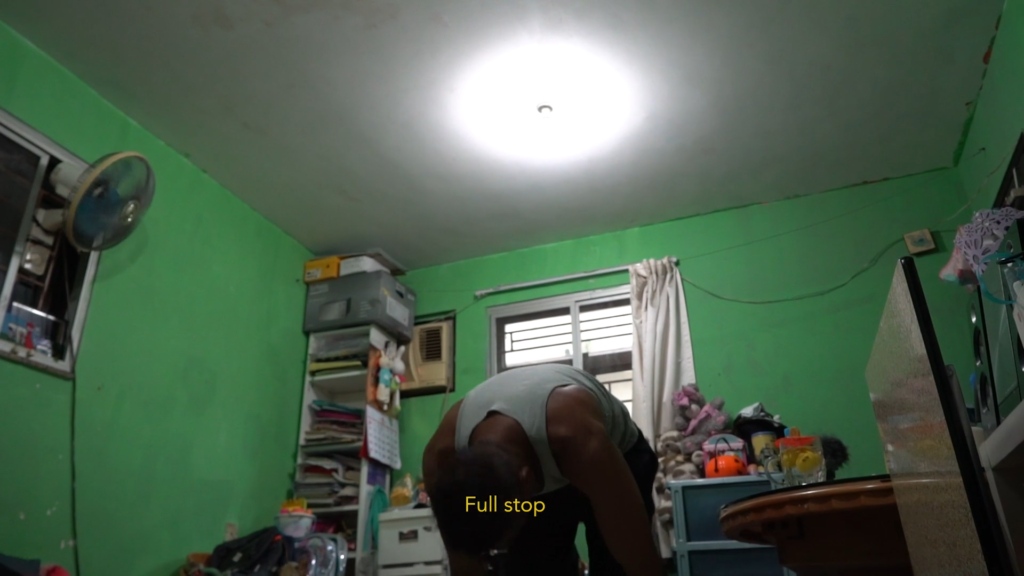 Green Walls (Terence Li)
First Prize Winner
Medium: Video and still print
Guide Price: N/A (any donation to JCHK welcome)
A small flat with green walls sets the stage for a recitation exercise. Our protagonist is a girl from a Sri Lankan family, whose claim to a refugee status was repeatedly declined by the authorities in Hong Kong and therefore stranded here, unentitled to a passport. In this video work, she is urged by her parents to recite the poem "Seasons of Trees" numerous times until she perfects it.
Green screen is a technique that is employed in video post-production, where a green background is set to be substituted by another image. The colour green is thus an image that invites speculations, one that shall be filled by our own projections. On the other hand, the poem here depicts the change of seasons and ushers the audience into nature, even though the recitation happens within four walls. The green screen and the passage of time portrayed in the poem are in stark contrast to the involuntary immobility of the refugee family. "Green Walls" can thus be likened to an audition that never pays off.
For this work, I have opted for a conceptual framework, in which I document in detail the repeated attempts at reading the poem and intersperse them with segments of banality lived by the refugee family. This mechanical approach per se serves as a counteracting force against the emotions of the characters. Through the tension created in these contradictions, it is hoped that the audience experiences the perpetual struggle of the displaced – a life torn between hope and disappointment, freedom and confinement.
Artist Bio
Terence Li is a filmmaker, photographer and art critic. He was born in San Francisco, USA, and graduated with a bachelor's degree in Journalism and Communications at the Chinese University of Hong Kong. He is now based in Berlin and pursuing Art and Media studies at the Berlin University of the Arts. Li is the recipient of a number of grants and awards, including the Barbican's Chronic Youth Film Festival 2020, the Incubator for Film and Visual Media in Asia (ifva) awards, Promax Gold Award, and the sponsorship from the Hong Kong Art Development Council. His works shed light on identities in transition and the transience of space. The keywords defining the subjects of his works are uncertainty, unpredictability and performativity.
Tears of a Refugee (Trinity Ro)
Youth Award Winner
Guide Price: $3k
Size: 112 x 62 x 16 cm
I specifically chose the time and labour-intensive medium of paper cutting, as I felt it was the only medium that could encapsulate the essence of the painfully delicate and fragile lives of a refugee in Hong Kong with each detail carved into paper. Real elements of nature are also incorporated, such as the wood that the art is tethered to and the preserved lichen moss.
Every year, hundreds of refugees are forced to flee their home countries due to violence or persecution in hopes of a better life for themselves and their families. It is this sacrifice and hope that I hoped to capture through my artwork, with the mother's tears creating a river on which her family can travel towards a brighter life. The storks, birds that are typically used to represent a new life and rebirth, are also known as migratory birds that fly between Europe and Africa. I hope that my artwork can be seen as a representation of the devotion of a refugee to their family's wellbeing, and a beacon of hope for the freedom.
Artist Bio
Currently a KGV Student in Year 12 with aspirations of working in the Law industry to fight for human rights for all.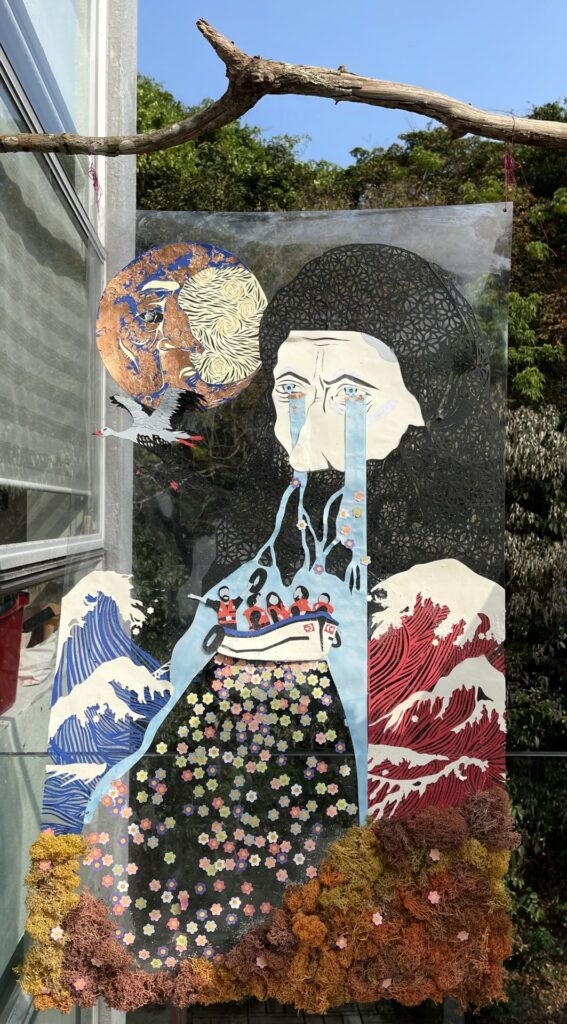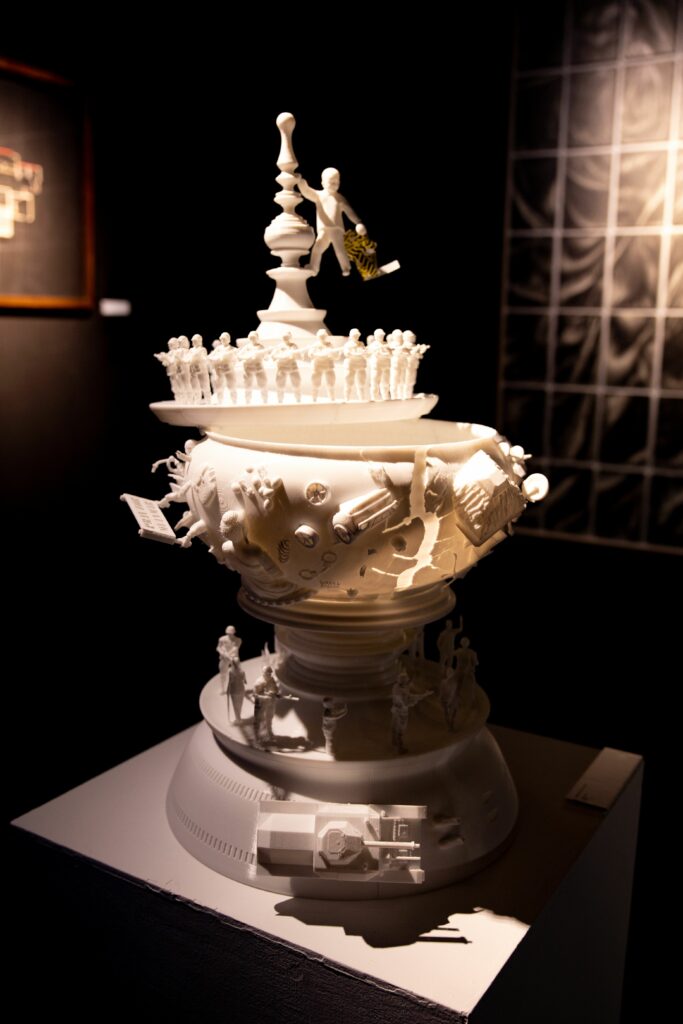 A Broken Vessel cannot Hold, Jamela Law
InkluVision Award Winner
Medium: 3d Printed vessel
Size: 70 x 42 x 37 cm
For this artwork, the artist duo has put their focus on Myanmar's turmoil, a pressure pot that has been broiling for the past years. The form of this sculpture is referenced after the 'Hsun-ok', a ceremonial offering vessel commonly found in Myanmar. Making food offerings to the monkhood is one of the most important rituals of the laity in a Buddhist society. It is a way for followers of Buddhism to gain merit and ensure better prospects in their next lives. By co-opting this symbol of devotion and goodwill, we aim to tell the stories of different marginalized groups who were ostracized in Myanmar. This choice of imagery is deliberate in its irony, as we seek to highlight the rampant human-rights abuses that are carried out by professed believers, whose acts of terror counter to the tenets of the Buddhist religion.
Artist Bio 
Jamela Law belongs to an art & design duo named Baëlf that is based in Hong Kong and Singapore. Together with my partner Lionel Wong, our mission is to demonstrate how digital modelling tools and additive manufacturing technology can be a medium for art making, a fresh way to think as much about aesthetics and culture as it is about production and performance. Our current focus is developing computational tools with the help of Artificial Intelligence and Machine Learning for creative expressions and applications. Our past works had been presented on publications and exhibited internationally
Towards Leviathan, Together (Alexander Treves)
1st Runner up
Guide Price: $3k
Size: 45 x 90 x 2 cm
The main photograph is of the English Channel two nights after a family of five Kurdish-Iranian migrants drowned  whilst trying to get by boat to the UK: Rasoul Iran-Nejad (35); Shiva Mohammad Panahi (35); Anita (9); Armin (6); Artin (15 months, body unrecovered). Shared no future.
The smaller photograph is of a child's armband recovered from a rocky shore on Lesvos, a Greek Island which is on
the refugee and migrant route into Europe.
Artist Bio
I've photographed refugees and other displaced people in over 20 countries. I use my photography not just to document issues that I care about, but also to raise money to assist with the underlying problems. For example all proceeds from sales of my book "Glimpses Over The Edge", after publishing costs, benefited refugee charities.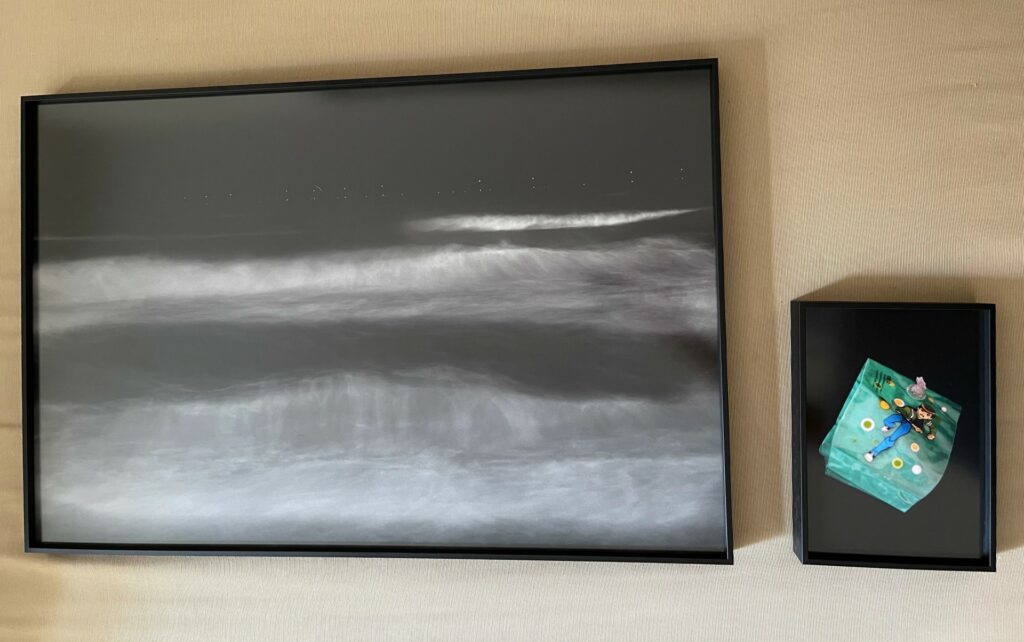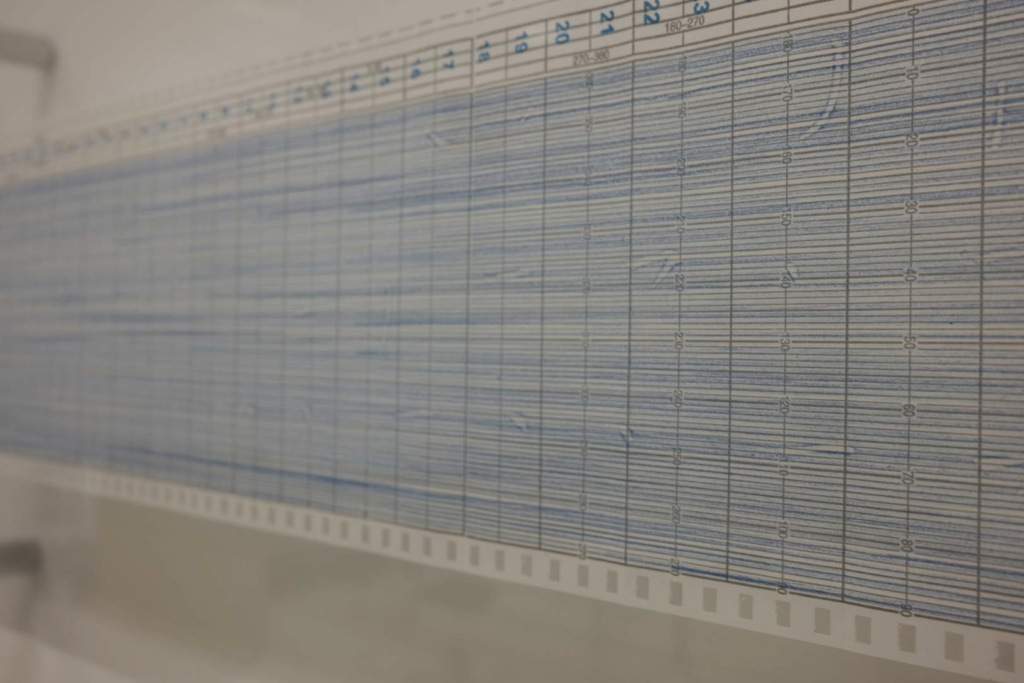 Departure to Nowhere, Somewhere (Shawn Tang Pak Hin)
2nd Runner up
Medium: Colour pencil on marine chart record paper, A4 paper, clipping board, acrylic sheet, a compass pointer, alarm clock parts, brass
Guide price: $42k
Size: 30 x 540 x 15cm
'Set sail to the forbidden sea where no one knows where they are going; no orientation, no state of time, no thirsting throat, no not physicality of body, no drifting mind, only the empty horizon under the weakest brightness.'
What we have witnessed globally today is that whenever 'human rights' is mentioned, it is mentioned within the course of accusation of the others. Let alone all kinds of standards set by different people and different countries, 'human rights' should be inclusive, where it should not be used when pointing finger but rethink as an individual before a group.
Artist Bio
Shawn Pak Hin Tang, (b. 1994), is a Hong Kong-based artist who obtained his Bachelor's Degree from Academy of Visual Arts at Hong Kong Baptist University in 2020. He participated in exhibitions and shows internationally including 'Letting Go, Carry On: A Capacity Building Initiative' (Hong Kong, 2021), 'The Sun will Rise as Always' (Hong Kong, 2021), 2020 Young Voices (Taichung, 2020), and Pathfinder (Berlin, 2020).
Urban Variations N0.1 (Rebecca Ngan Ting Hon)
Justice Centre Choice Award Winner
Medium: painting (with optional light projection)
Guide price: $27k
Size: 190 x 70 x 3 cm
Do you still recognize this city where we grew up together? Ink art expresses the essence of traditional Chinese culture and philosophy, showing us fine techniques and details, while new media expand the infinite possibilities of art. "Urban Variations No.1" is one of the latest series of ink experiments. Using traditional skill for abstract creation, then use this as the base for computer geometric processing and digital creation, refine the completion with handpainting, and finally with moving image projection. hoping to create a unique contemporary ink view and blur the boundary between hand-painted and digital.
Combining Hong Kong photos to blur and geometricize them, and then print them on rice paper with ink, and add white to form the representative landscape of Hong Kong, Victoria Harbour, and then use dynamic projection to change its structure and blur the boundaries.
Geometricalization represents the transformation and reconstruction of various cultures in a suitable form for Hong Kong, integrating into the existing local multiculturalism, such as Hong Kong's multicultural society, integrating different humanistic elements. The context of society is continuously reorganized to form a new urban landscape. Under the vision of a common city and a common future, with the community as the carrier, explore the establishment of a daily and public inclusive society "common consciousness".
Artist Bio
Graduated from the Master of Arts in Fine arts from the Chinese University of Hong Kong, Rebecca Hon is a Hong Kong artist who mixes traditional art with modern technology. Rebecca's graduation guidance is ink master Wucius Wong, She also followed Mr Chan Kwan Lap, Mr Tony Ng and Ms Jin Li to practice Chinese ink and watercolor techniques. In 2019, She visited the Taipei National University of the Arts as an interview student. Her main works include digital ink painting, modern ink painting and installation art. Her works have been sold in Ravenel Auction, and also exhibited in Hong Kong, Taiwan, Mainland China, Singapore, the United Kingdom and Scotland. Rebecca has won prizes in local and overseas competitions, such as the 2020 UOB Art in Ink Awards and the 24th Dadun Art Exhibition (Digital art category) in Taiwan, 2019. Her works combine the ideas of the West and the East, and is committed to the fusion of traditional ink and new media, hoping to create works that have both traditional cultural connotation and contemporary new media.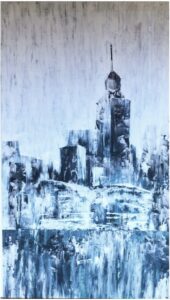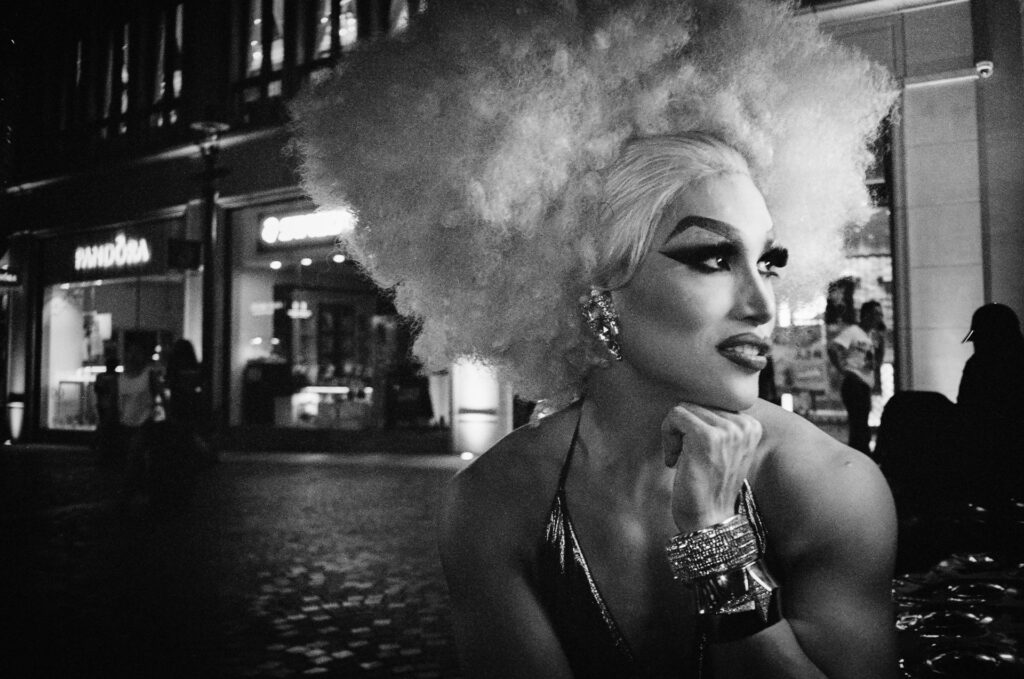 Immediate Sexuality (Kasper Forest) –
Miss MidLevel, My Insight" (2017) 
Medium: Photograph
Guide price: $3k
Size: 30 x 40 cm
This is the first portrait of my "Immediate Sexuality" photo series. Back then, I didn't know much about drag artists, but this shooting has become an important starting point for my further creations. I've seen in this portrait a drag queen who does not lack any self-affirmation of her identity and carries this self-confidence through a strong expression in her eyes and face. However, the majority of today's society has still not come to fully embrace these individuals. Considering all the uncomfortable stares she was receiving on the streets, her confidence was even more exceptional and more deserving of everyone's and my attention.
Artist Bio
Kasper Forest, is a curious Hong Kong photographer who started becoming obsessed with this medium since 2011, and got taken by street photography in 2016. In the same year he started a 10 years documentary – #ConflictHongKong, for which he captures the minorities living in the city. This series was award winner of – ArtNext International Artists Gold Award 2019.
Kasper creates the #ConflictHongKong Project to express the many dilemmas faces by the modern Hong Kong society. He was born in the city during t Kongers, they believe the city is the only place they belong to, the only nation they born from. Kasper believes searching identity can always be a core issue for a colony city like Hong Kong. Such contradiction demonstrates a sense of confusion and anxiety about the future.