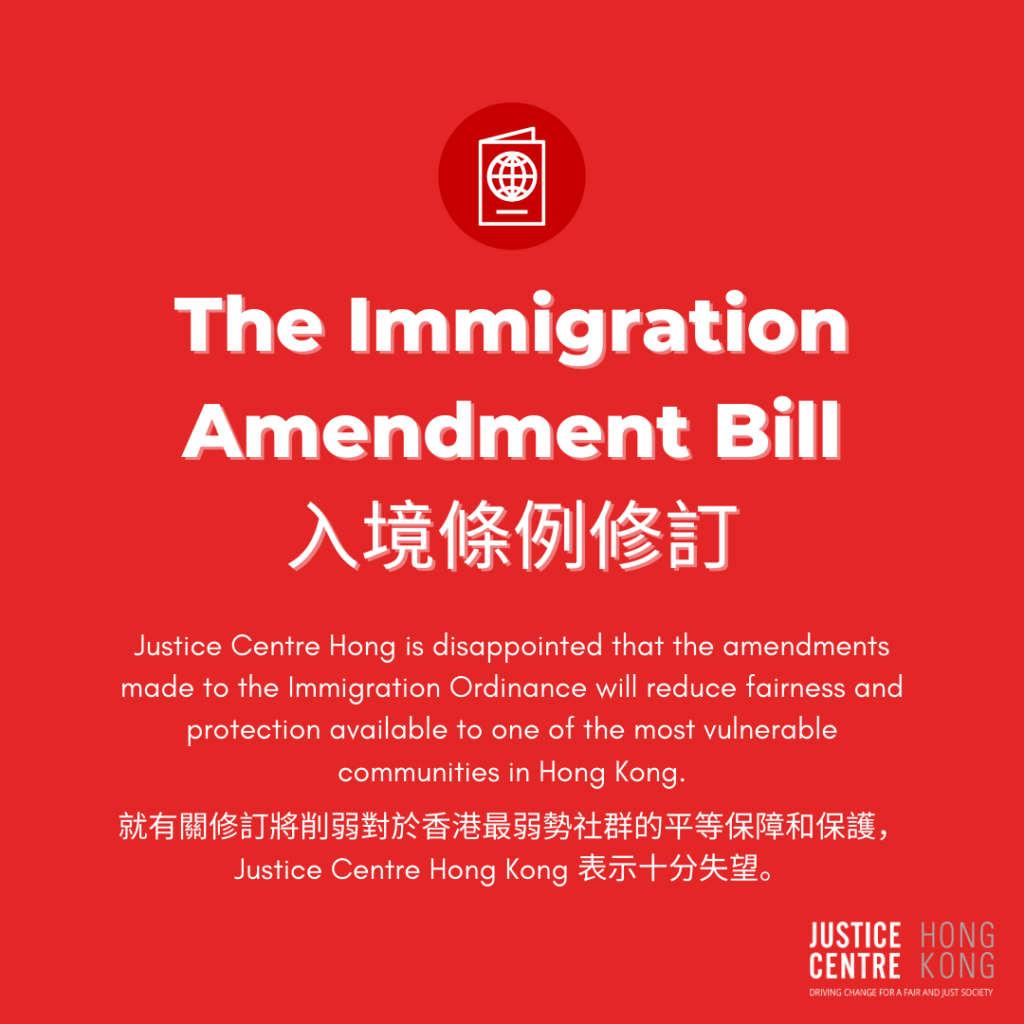 In relation to the Legislative Council's passage of the Immigration (Amendment) Bill 2020 yesterday, Justice Centre Hong Kong makes the following statement:
We are disappointed that the amendments made to the Immigration Ordinance will reduce fairness and protection available to one of the most vulnerable communities in Hong Kong.
Asylum seekers come to Hong Kong as a last resort, typically fleeing life threatening situations or persecution, and primarily seek safety and survival. The Immigration Amendment Bill passed today will increase the chances that those most in need of protection will slip through the cracks.
As Claire, a refugee from East Africa told the Refugee Concern Network, "The Hong Kong Government should at least give asylum seekers fair process. We don't need much and we don't need pity. We just want a fair process."
We are also saddened by the use of xenophobic and even racially charged language throughout the discussion of these important changes. By denying asylum seekers and refugees equal dignity, our society also denies these brave survivors of horrendous rights violations the equal access to justice and critical social welfare.
It is easy to lose sight of the human impact of legislative changes but we will continue to work with the men, women and children affected by these changes under the Bill to give them the best chance of a fair and just outcome.
Please see relevant press coverage:
就立法會昨天通過《2020年入境(修訂)條例草案》,Justice Centre Hong Kong 僅聲明如下:
就有關修訂將削弱對於香港最弱勢社群的平等保障和保護,我們表示十分失望。
對尋求庇護人士而言,因為生命危險或迫害而逃離家園,以至流落異鄉是尋求安全及生存的最後手段。今天通過的入境條例修訂將會增加最需要保護的人,因為香港的制度存有漏洞而未能得到保護的機會。
來自東非的難民Claire早前向關注難民網路表示:「香港政府理應至少保障尋求庇護人士訴諸公平法律程序的平等權利。我們沒有奢求亦不需憐憫,我們只需要公平的程序,僅此而已。」
審議這些重要修訂的過程亦充滿排外甚至種族歧視的言論,就此我們感到極度難過。如若我們的社會拒絕認可尋求庇護人士及難民與香港人平等的尊重及尊嚴,我們亦是拒絕認可人權侵犯倖存者訴諸法律及獲得關鍵社會資源的平等權利。
縱使社會十分容易忽視修改法例對於個體造成的影響,Justice Centre 將繼續與受這些改變影響的所有人攜手合作,以媒求最公平及公正的結果。
相關新聞報導: