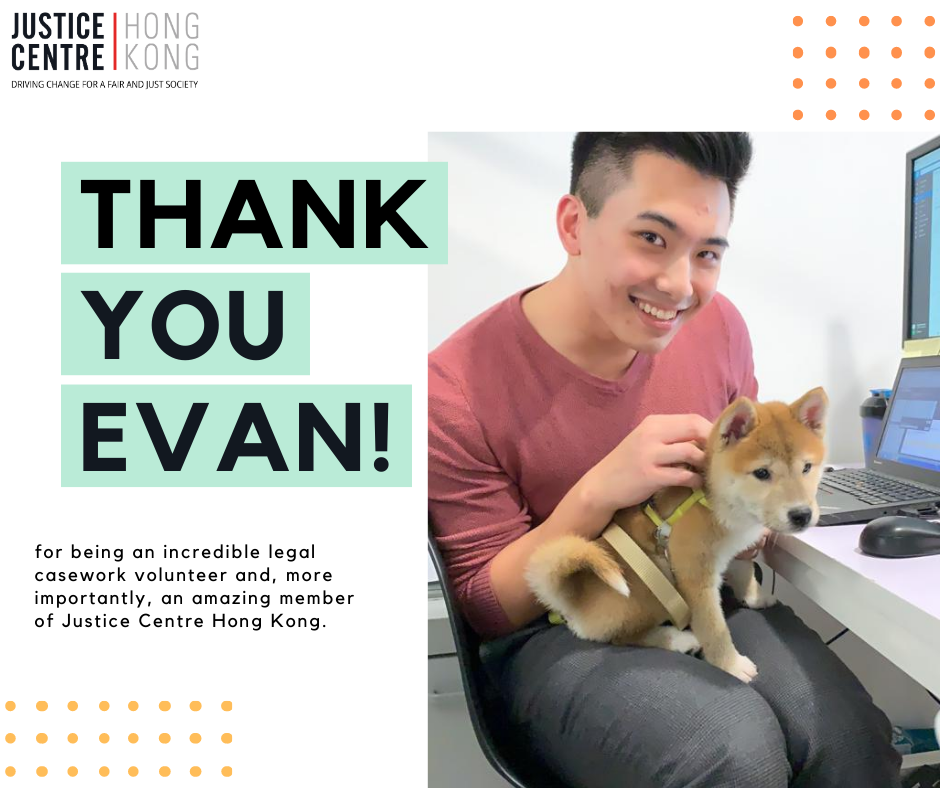 Justice Centre has had the great pleasure of having Evan as part of our team over the past 10 months as our Legal Casework Volunteer. He has been an incredible asset to our organisation with both his passion and legal skills.
Before moving on to pursue his Postgraduate Certificate in Law, Evan remarks, "I came to Justice Centre Hong Kong for the opportunity to learn from some of the leading practitioners in the field of refugee law, as well as directly assist and work to resolve the legal issues of some of the most vulnerable people in our society."
"During my time here, I have developed a first-hand understanding of the unfortunate realities refugees face when seeking asylum in Hong Kong from both legal and social welfare standpoints. Working in this area was as tough as it was rewarding, and I have no doubt that this will not be the last time that I will apply the knowledge and perspective I have gained as I progress further in my legal career."
As we say our farewell, Evan's supervisor Jonathan also adds that "it has been a privilege working with Evan, who has the rare combination of being enthusiastic, hard-working and very smart. We thank him for his diligence and enthusiasm, and especially his willingness to take on any task at any time, regardless of complexity."
Please join us in wishing Evan a successful and rewarding career ahead and we are sure that our paths will cross again very soon.