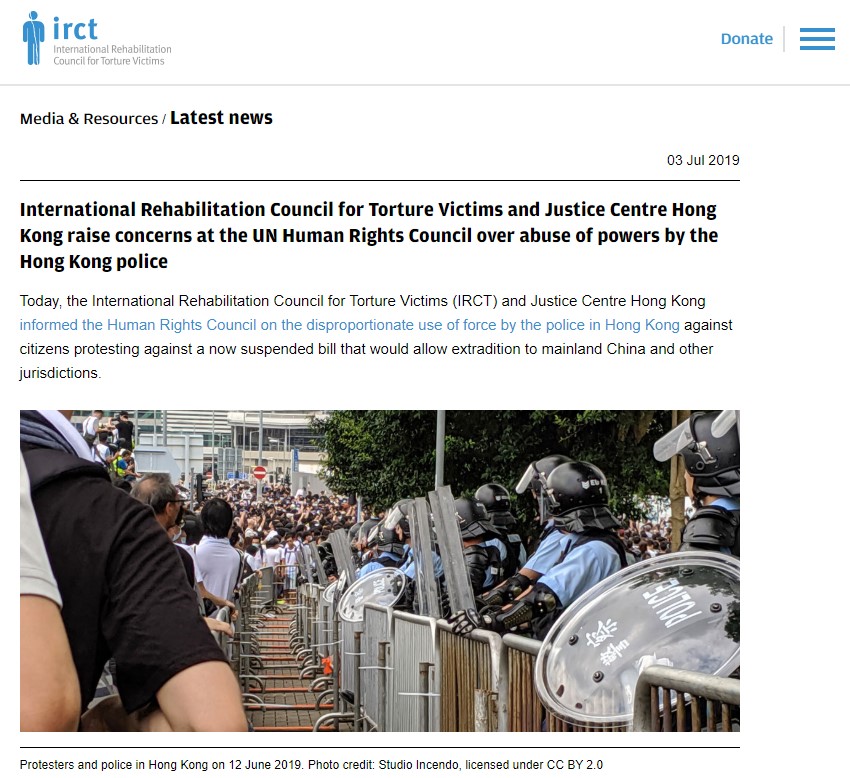 Our Executive Director Piya Muqit spoke at the UN Human Rights Council in Geneva on behalf of the International Rehabilitation Council for Torture Victims and Justice Centre, highlighting the recent disproportionate use of force by the Hong Kong Police.
"The police employed batons, pepper sprays, hand-thrown tear gas rounds, pepper balls, bean bag rounds and rubber bullets. Unarmed protestors were injured and some protestors were arrested at hospitals", said Piya Muqit, Executive Director of Justice Centre Hong Kong, speaking on behalf of both organisations.
IRCT and Justice Centre Hong Kong urges the Hong Kong Government to uphold its commitment under the Convention against Torture and to implement recommendations made by the Human Rights Committee to establish an independent mechanism to investigate into abuse of powers by the police. We also urge the Hong Kong Government to implement the UPR recommendation made by France on the freedom of expression and the freedom of assembly, which it accepted.
"It is essential that the international community continues to monitor the situation in Hong Kong to ensure that the human rights situation does not decline further. As the global political forum for promoting human rights, the UN Human Rights Council must play an active role in these efforts. That is why we spoke out today", said Asger Kjaerum, Director of Advocacy at the IRCT.
Watch the full statement: