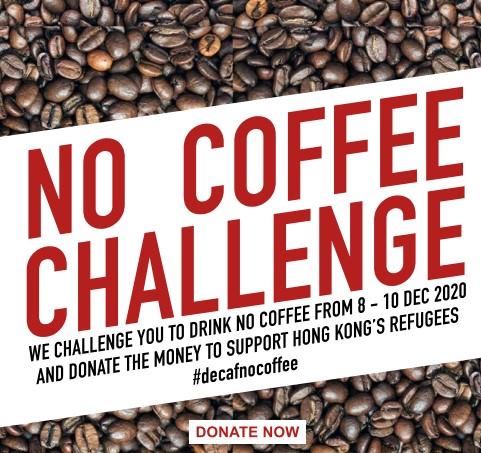 𝐍𝐨 𝐂𝐨𝐟𝐟𝐞𝐞 𝐂𝐡𝐚𝐥𝐥𝐞𝐧𝐠𝐞 𝐃𝐚𝐲 𝟏 – "𝐆𝐢𝐟𝐭" 𝐔𝐩 𝐲𝐨𝐮𝐫 𝐜𝐨𝐟𝐟𝐞𝐞!
Today is Day 1 of the 3-day No Coffee Challenge, we hope you will join us in showing solidarity with refugees and asylum seekers in Hong Kong by donating $40/day for the next 3 days!
𝐖𝐡𝐚𝐭 𝐢𝐬 𝐭𝐡𝐞 𝐫𝐞𝐥𝐚𝐭𝐢𝐨𝐧𝐬𝐡𝐢𝐩 𝐛𝐞𝐭𝐰𝐞𝐞𝐧 𝐜𝐨𝐟𝐟𝐞𝐞 𝐚𝐧𝐝 𝐫𝐞𝐟𝐮𝐠𝐞𝐞𝐬/𝐟𝐨𝐫𝐜𝐞𝐝 𝐦𝐢𝐠𝐫𝐚𝐭𝐢𝐨𝐧?
Many of us associate asylum seekers with war and conflict, but there are many other drivers. In the past decade we have witnessed an emerging trend of "climate refugees". With increasingly extreme weather, coffee farmers are at higher risk of loss of plantations becoming uninhabitable and being forced to leave.
Coffee as one of the world's most traded commodities, is also one of the factors contributing to climate change. The current style of intensive coffee farming has a negative impact on the environment, including deforestation which is a contributor to climate change.
Please support our work to fight injustice and drive change for a fair society!
We still welcome any companies/organizations who wish to join us in the No Coffee Challenge! Simply pick any three days to conduct the campaign in the month of December. Please contact Maggie at maggie@justicecentre.org.hk for more details.