Posted by Rachel Li
"When I am in the MTR, people sometimes pinch their noses and move away as if I smell. If my arm touches theirs, they brush themselves off as if I've dirtied them. It hurts."
These were the words of a refugee who participated in a workshop I observed last week at the Equal Opportunities Commission (EOC) to teach graduates of Justice Centre's Voices for Protection about Hong Kong's anti-discrimination laws and the mandate of the EOC. Refugees were asked to think about their own experiences with discrimination at the beginning of the workshop. After the speaker had explained the law, they discussed whether they thought these experiences constituted discrimination by law.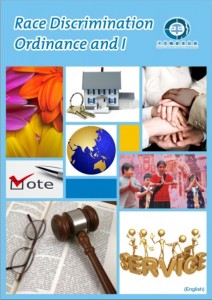 Some spoke about feeling like they were racially profiled by the police. Others mentioned that taxis would not stop for them or that they were turned away by real estate agents. To their disappointment, participants quickly learned that what they see as discrimination towards them is not always within the ambit of any of the anti-discrimination ordinances. The Race Discrimination Ordinance is the most relevant, but there are times when the discriminatory treatment refugees may have received was not necessarily caused by their race. For instance, many participants spoke about the trouble they had getting by with only the Recognizance Paper, colloquially known as "Form 8", when they tried to access medical facilities, public gyms, the swimming pool, and library services. So it would seem that discriminatory treatment is more caused by their status as non-refoulement claimants than their race.
"And very often discrimination is difficult to prove," one of the participants added.
Indeed. Very often is it only a sideways glance, a look of disdain, a shift in one's seat and a nervous clutch at one's bag.
It was interesting to hear refugees' perspectives just one week after an important Legislative Council (LegCo) Panel on Security meeting on the Unified Screening Mechanism on 7 July. The opening paragraph of the paper provided by the Hong Kong Government for this meeting refers to refugees as "foreigners who smuggled themselves into Hong Kong and visitors who overstayed their limit of stay", labelling them as "collectively 'illegal immigrants'". "'Illegal immigrants' seeking non-refoulement in Hong Kong are not to be treated as 'asylum seekers' or 'refugees'," it asserts. There is no mention that refugees who arrive in Hong Kong with valid visas are only eligible to enter the Unified Screening Mechanism after they have overstayed their visa, hence made to become illegal in the first place.
The government's change in rhetoric is extremely alarming, for it feeds into negative stereotypes and encourages the public to view refugees with suspicion. Justice Centre's response to the paper in an informal briefing to certain LegCo members and in the media has highlighted the concern that this deliberate anti-refugee discourse plants the seeds of intolerance and discrimination.
As an external relations volunteer at Justice Centre, a key part of my work has entailed monitoring Chinese-language news and social media. I have found it disturbing to see how the government's anti-refugee discourse is being weaponised by some against refugees in Hong Kong. For instance, the "illegal immigrants" label paints a picture of refugees as "lawbreakers" and "criminals"; when refugees apply for legal aid and lodge judicial reviews, they are said to be "wasting taxpayer's hard-earned money", as if they should not be allowed the basic right to access justice. What is more saddening though is to witness blatant racism and even racial slurs – be it in online forums, news stories and comments or social media pages – directed towards certain ethnic minorities.
These sorts of abuses are, hopefully, on the more extreme end. But prejudice is prevalent in Hong Kong society and, if it is left unchecked, can easily flourish into xenophobia. As someone who is born and bred in Hong Kong, it is disheartening to see the general indifference towards these sorts of abuse. "What does it matter and what does it have to do with me?" was the most common response when I brought up the issue with friends. It matters because refugees are people, and because they are fleeing their countries for very real reasons.
I would not have made the connection that my own family had a refugee history if it was not for working with Justice Centre on the #SharedPasts project. My grandparents fled China and came to Hong Kong during times of war and turmoil. They were living on sweet potatoes and tree bark for some time during the war. My grandfather was made to stand under the blistering sun with his infant son, my uncle, and was nearly killed by a Japanese officer when he put a hat on his baby. He was spared when the village chief offered the officer a cigarette in exchange for my grandfather's life. These are stories that Hong Kongers know by heart, and the reasons that compelled my grandparents to risk their lives and flee their country are the same as those that force refugees to flee their homes today.
Upon reflection, I also realise that I did not know much about refugees in Hong Kong prior to entering college. I had heard about refugees, of course, but I thought of them as being in some faraway war-torn country. This is why the government's deliberate anti-refugee rhetoric is so harmful: when the public knows so little about refugees in Hong Kong, what the government says dominates and misleads the public discussion. The government, for a start, has the responsibility to acknowledge that the right to asylum is a human right. We need to start having a healthy conversation about refugees in Hong Kong.
Read our informal briefing to selected LegCo members of the Panel on Security here.
Check out our response in the media to the government's anti-refugee discourse here and here.
Rachel Li is an external relations volunteer at Justice Centre. She is studying Literature and Law at the University of Hong Kong.