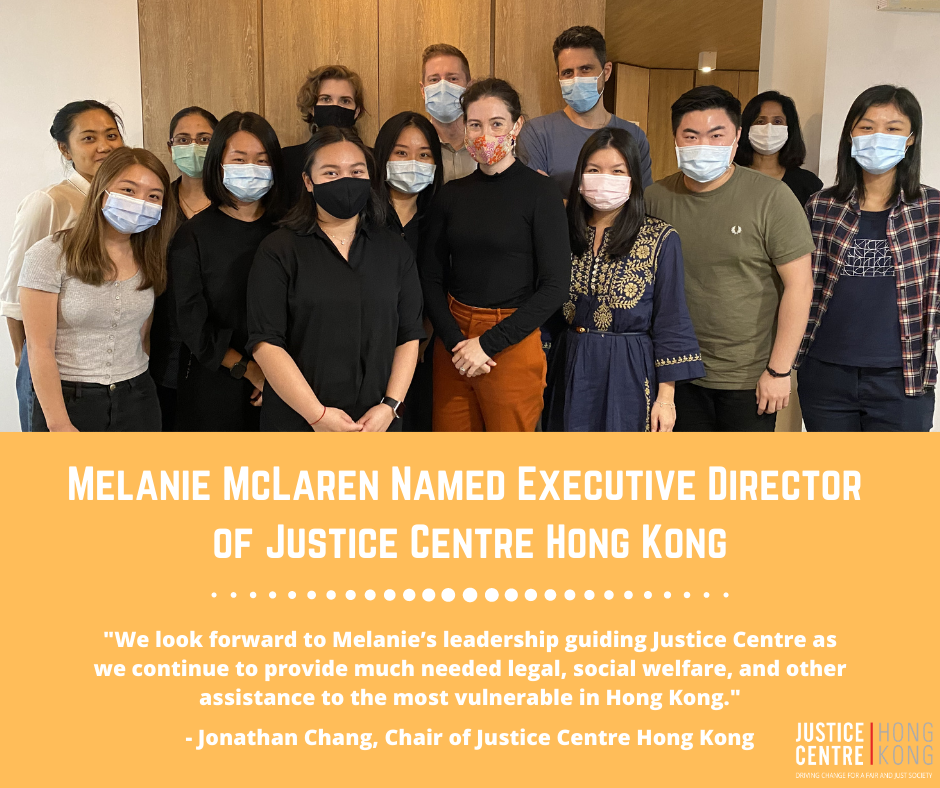 Dear all,
We are thrilled to announce the selection of Melanie McLaren as Justice Centre Hong Kong's new Executive Director, who was unanimously selected by the Board following an international search that attracted over 70 applicants.
Many of you already know Melanie from her years of service as Justice Centre's Head of Fundraising and Development, and more recently as the Interim Co-Executive Director. Over the last several months, under Melanie's leadership, Justice Centre's commitment to raise awareness and support, defend and protect our refugee clients' rights has strengthened. During this time, we have fine-tuned our strategy to ensure we continue to deliver world-class refugee support and policy contributions, including with our pro bono law firm partners. Some indicators of our achievements include the United Nations Human Rights Committee adopting our migration-focused submission in its List of Issues for Hong Kong's upcoming review under the International Covenant on Civil and Political Rights, LegCo members quoting our research work during debates on judicial procedures and other matters affecting refugees, 5 clients having their non-refoulement claims granted by the Hong Kong Government out of the total of 31 substantiations in the same period, and entering the final stages of launching a mobile app that will serve as an valuable informational guide for refugees living in Hong Kong.
As part of this, Melanie has also driven multiple stakeholder discussions and new relationships, and we are excited to continue and expand those discussions as part of our refreshed strategy to support the Hong Kong community and some of its most vulnerable members. Importantly, Melanie has also helped drive the build-out of the next layer of internal systems and controls for the organisation to ensure it remains robust.
Upon her selection, Melanie shared: "I am honoured and excited to be taking on the role of Executive Director, and to be working to secure protection for our refugee clients. I am continually inspired by the expertise and professionalism of all the staff at Justice Centre, and their dedication to realising our vision of a fair and just Hong Kong. I look forward to continuing to work with this team, our partners, and with Hong Kong's individuals and institutions to ensure a safe future for all forced migrants who arrive in our city."
We look forward to Melanie's leadership guiding Justice Centre as we continue to provide much needed legal, social welfare, and other assistance to the most vulnerable in Hong Kong.
Justice Centre is grateful for the assistance of Star Anise, who provided pro bono assistance in our Executive Director search, and Jessica Chan who, along with Melanie, has served as Interim Co-Executive Director.
Jonathan Chang
Chair of Justice Centre Hong Kong