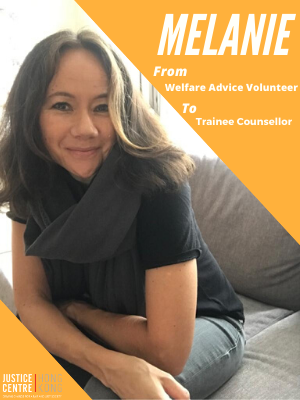 Melanie joined Justice Centre 8 months ago as our Welfare Advice Volunteer and now, she is embarking on a new journey with our pilot Counselling Programme with trauma specialist and Registered Psychologist, Dina Chamberlain.

Prior to joining us, Melanie was a Family & Child Protection lawyer in London. Read below about her experience with us and her observations of the protection landscape in Hong Kong.
As a volunteer in the social welfare team at Justice Centre, my role was to support clients with their day-to-day concerns while their legal cases are being decided. I have been shocked by the lack of a legal framework to help refugees/asylum seekers in Hong Kong: cases can take many years to conclude, with the claimants being unable to work and receiving only $1500 from ISS for rent and $1200 in food vouchers per month; children need to attend school (with insufficient language support for non-Cantonese or English speakers); navigating the medical fee waiver system is extremely complex; clients often live in accommodation poorly suited to their needs & can find themselves at the mercy of corrupt landlords. These are just some of the issues I encountered during my 6 months volunteering with the social welfare team.
I am now part of Justice Centre's recent collaboration with Counselling Psychologist, Dina Chamberlain, which has been set up to enable Justice Centre clients to receive free counselling from Monash University trainee counsellors. While the legal system for Justice Centre clients in HK is challenging, most clients have fled even more difficult scenarios in their home countries, such as torture, threat to life, religious persecution or sexual violence. Under the supervision of Dina Chamberlain, who has a specialism in trauma, Monash trainee counsellors can now offer this additional tier of much needed support to the clients. That said, I feel I am learning from my clients in every session about strength & resilience in adversity.
While I conclude my training, I have not made any decisions about the client base I would like to work with in the future. However, an important tenet within the Counselling profession is that at least some of your work should be pro-bono and, as such, I see myself continuing to work with disadvantaged populations.