Posted by Zamira Monteiro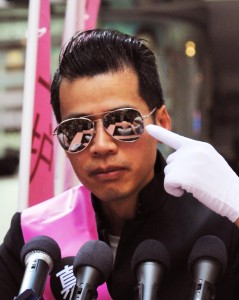 Only one week to go till the launch of Human Rights Week 2015! Are you as excited as we are?
As part of the line-up, we're very honoured to have visual artists Kacey Wong and Katie Vajda delivering a special talk on the use of art as a tool to raise awareness of human rights issues. They will speak about some of their projects and the issues they are passionate about, particularly reflecting on the value of protest art and tips for effective art advocacy for emerging artists.
This talk will be of interest to emerging artists, art students and enthusiasts, and anyone interested in activism!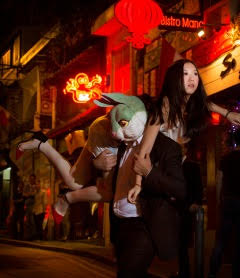 Kacey is an educator and an active contemporary visual artist in Hong Kong. A former judge of the Hong Kong Human Rights Arts Prize, Kacey's experimental art project investigates the poetics of space between men and their living environment. He was the winner of the Best Artist Award in 2010, Rising Artist Award and Outstanding Arts Education Award given by the Hong Kong Arts Development Council in 2003. Kacey is well known for using his art as social activism and for his public engagement art projects in the Occupied Zone during the Umbrella Movement. As an art activist, his recent political artworks explore the possibility between art and public demonstration, linking art and political resistance into one.
Katie is a photographic artist living and practising in Hong Kong. Her work is beautifully executed yet challenging, engaging with cultural theory and philosophy. Katie's work has appeared regularly in Hong Kong media and been exhibited both locally and internationally, most recently at Fine Art Asia, The Arts Centre HK and Art Miami 2015. Katie was also the winner of the Hong Kong Human Rights Arts Prize in 2014, with her series 'Can you see me yet?'.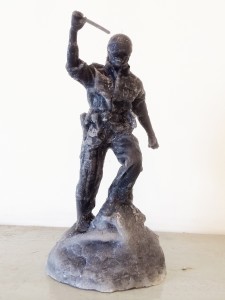 Both Kacey and Katie have also generously donated artworks that will be auctioned at our invite-only awards ceremony and charity auction on the evening of December 10, which is International Human Rights Day.
Details
Artist talk: Art and Human Rights by visual artist and activist, Kacey Wong (in English)
Date: Wednesday, December 9, 7-8pm
Venue: The Fringe Club, 2 Lower Albert Road, Central.
Admission: Free
RSVP by emailing info@justicecentre.org.hk or calling 3109 7359.
Check out the full line up of events for Human Rights Week 2015 at www.justicecentre.org.hk/events.
You can now preview the gallery of shortlisted artworks for the Hong Kong Human Rights Arts Prize and pre-bid online at www.justicecentre.org.hk/artsprizegallery.