Terms of Reference
Purpose of position:
The Justice Fellow (Legal) is a position created to develop public interest law capacity in Hong Kong.
Fellows are provided with extensive training and supervision to develop expertise and practical experience in the area of refugee and human rights law. They will provide a valuable contribution to Justice Centre's Legal services, and to the operation of Justice Centre's pro bono partner programme.
Duration of position:
6 to 12 months.
Reporting relationships:
The Justice Fellow is managed by the Legal Services Manager ('LSM').
Responsibilities:
Conduct interviews with claimants, conduct legal and factual (including country of origin) research, and write interview- and research-based reports;
Contribute to developing claimant service information and processes, developing and delivering training, and assigning, supervising, and reviewing work by pro bono partners as part of the overall Justice Centre Legal Service programme ('LS');
Contribute to Justice Centre's monitoring and evaluation system;
Contribute to maintaining positive working relationships internally and externally;
Advise and collaborate with the Policy, Research and Advocacy team ('PRA') on trends, potential test cases, and breaking issues arising from case work which should be taken forward through policy, advocacy, research and/or other communications functions;
Advise the PRA team and, as appropriate, external lawyers and NGOs of important legal developments in the human rights and asylum law field;
Contribute based on expertise drawn from LS to the development of Justice Centre's policy PRA strategy;
Prepare and deliver trainings to protection claimants, partner organizations, pro bono lawyers, and others as determined by the LSM; and
Perform other duties as assigned by the LSM and/or Executive Director.
Essential:
Law graduate (LLB, LLM, JD or Graduate Diploma in Law);
Demonstrated ability to work independently and to mentor others;
Excellent organisational skills;
Excellent presentation skills;
English fluency, written and verbal; and
A demonstrable passion and commitment to human rights.
Desirable:
Experience in refugee and/or human rights law;
Knowledge of the HK legal system (and the USM);
Experience working with vulnerable people; and
Fluency in spoken and written Cantonese.
The position is unpaid, with the successful candidate bringing his/her own funding. Justice Centre will sponsor fellows for 6 to 12-month training visas.
Please e-mail your statement of interest and CV to jobs@justicecentre.org.hk with the subject line 'Justice Fellow (Legal).' Applications will be accepted on a rolling basis.
Justice Centre Fellowships
Justice Fellows are provided with a valuable opportunity to work as part of our Legal Services Team or Policy and Research Team. Our staff are international – with a wide-ranging expertise in public law representing refugees, working in multiple jurisdictions and engaging in international forums.
The positions were created to develop public interest law capacity in Hong Kong, while contributing to the provision of Justice Centre's individual claimant services, the development of policy change in Hong Kong and the operation of Justice Centre's pro bono partner programme.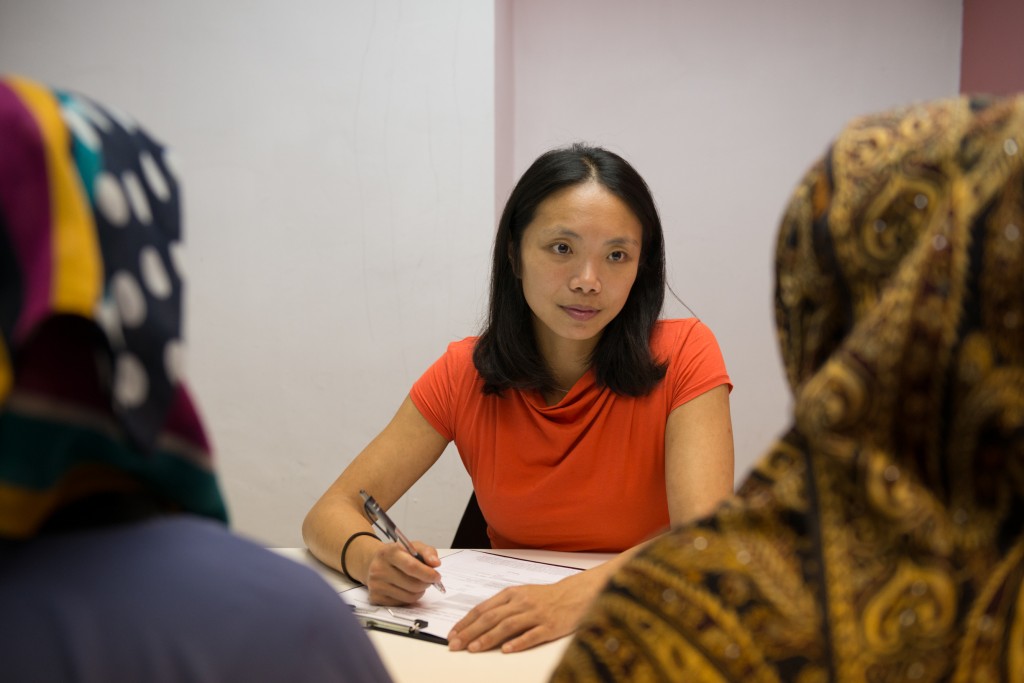 "The past year has been the most enriching of my career. As Justice Centre Fellow, I have had the opportunity to learn from experienced refugee lawyers and leading practitioners from around the world protecting the rights of forced migrants. As a qualified Australian lawyer with a background in corporate and immigration law, the position of Justice Centre Fellow provided the stepping stone I needed to make the leap from the corporate sector to the field of refugee protection."
– Lynette Nam, Justice Centre Fellow 2015-2016