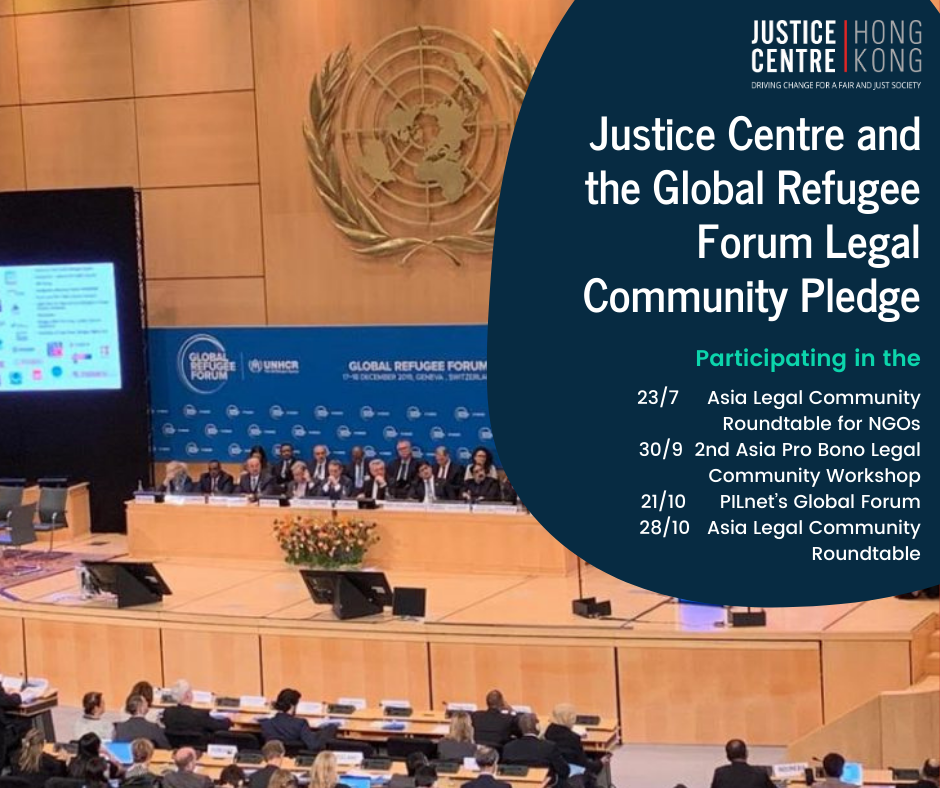 𝐉𝐮𝐬𝐭𝐢𝐜𝐞 𝐂𝐞𝐧𝐭𝐫𝐞 𝐚𝐧𝐝 𝐭𝐡𝐞 𝐆𝐥𝐨𝐛𝐚𝐥 𝐑𝐞𝐟𝐮𝐠𝐞𝐞 𝐅𝐨𝐫𝐮𝐦 𝐋𝐞𝐠𝐚𝐥 𝐂𝐨𝐦𝐦𝐮𝐧𝐢𝐭𝐲 𝐏𝐥𝐞𝐝𝐠𝐞
It has been a great honour for Justice Centre Hong Kong to participate in a series of workshops and roundtables to drive implementation of the Global Refugee Form Legal Community Access to Justice Pledge, together with PILnet and a core group of civil society organisations.
Apart from the initial roundtable for NGOs in Asia on 23 July, the Asia Legal Community Pro Bono Workshop for NGOs on 30 September, and PILnet's Global Forum on 21 October, we will also join the Asia Legal Community Pro Bono Roundtable tomorrow (28 October).
Justice Centre has been a core player in galvanising support for the Pledge from ink to implementation. Through the core group's outreach, we are delighted that 55 civil society organisations and 28 law firms have pledged 127,930 pro bono hours (as of September 2020) in an collective effort to realise the vision of the UN Sustainable Development Goals goal of Equal Justice for All.
We hope the Pledge and all the events have helped identify models for pro bono service delivery that address outstanding legal needs of refugees and others forcibly displaced in Asia.
Our Legal Officer, Jonathan Davis, spoke on the importance of establishing pro bono partnerships in Hong Kong and highlighted Justice Centre's efforts on developing its pro bono networks. He remarks, "The Global Refugee Forums provides NGOs with a unique opportunity to access a wealth of knowledge and experience that will directly benefit clients."