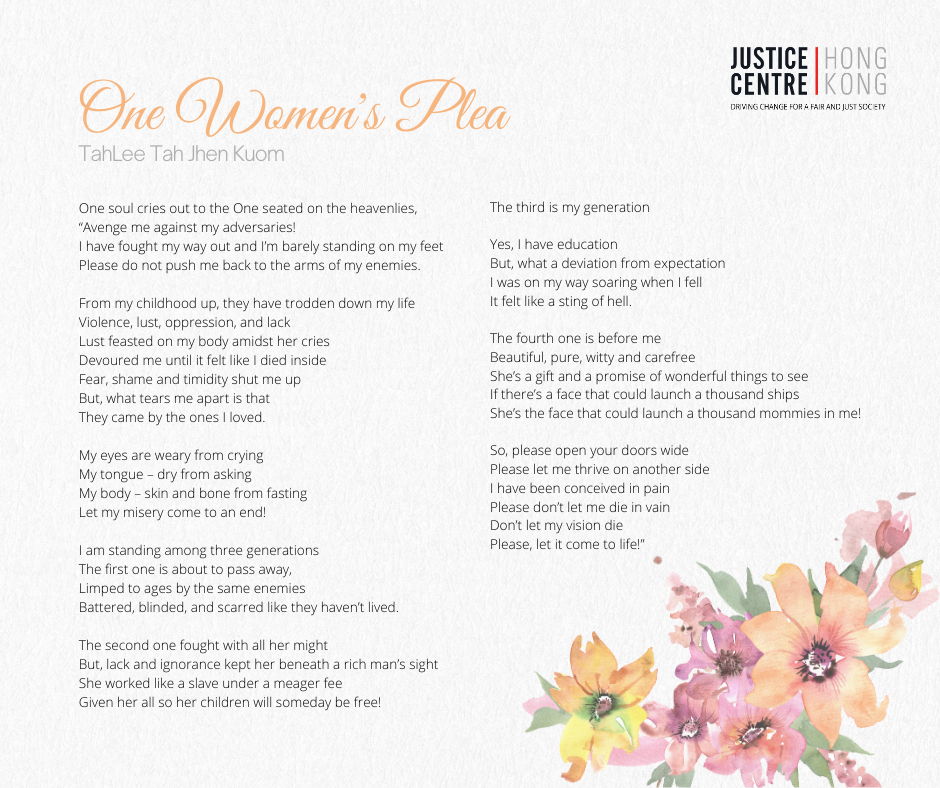 Today, on the 𝐈𝐧𝐭𝐞𝐫𝐧𝐚𝐭𝐢𝐨𝐧𝐚𝐥 𝐃𝐚𝐲 𝐟𝐨𝐫 𝐭𝐡𝐞 𝐄𝐥𝐢𝐦𝐢𝐧𝐚𝐭𝐢𝐨𝐧 𝐨𝐟 𝐕𝐢𝐨𝐥𝐞𝐧𝐜𝐞 𝐚𝐠𝐚𝐢𝐧𝐬𝐭 𝐖𝐨𝐦𝐞𝐧, we invite you to join us in celebrating and amplifying the voices of survivors of violence against women.


Justice Centre Hong Kong provides legal and psychosocial support to survivors of violence against women who are seeking protection in Hong Kong. Through our services, we have the privilege of working with women of incredible strength, like TahLeeTah Jhen Kuom.

TahLeeTah Jhen Kuom is a poet and a mother. She is an adult survivor of child sexual abuse and domestic violence. After enduring multiple and prolonged abuses, including an attempt on her life, she left for Hong Kong with her daughter to seek refuge. Her poem, One Woman's Plea, was selected for publication in  Translating Migration: Poetry as Inclusive Dialogue


Read One Woman's Plea in the picture above.

Donate to support survivors of violence today.