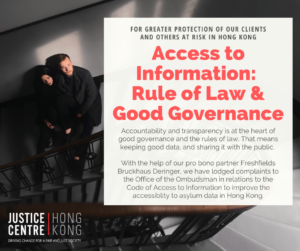 We don't just provide day-to-day legal and psychosocial support to around 100-200 of our clients at Justice Centre Hong Kong. We also advocate to improve the system for all those in need of protection. That includes trying to ensure there is accountability and transparency: analysing data and studying trends concerning the Unified Screening Mechanism. This is key to ensuring that even the most vulnerable and isolated can obtain equal access to justice.
However, despite multiple attempts to request information from the Department of Legal Aid, the Security Bureau and the Judiciary under the Code on Access to Information last year, they were not able to provide the basic data we requested. We are concerned that the present data collection, maintenance and disclosure practices are not in keeping with good governance and the rule of law. 
With the help of our pro bono partner Freshfields Bruckhaus Deringer, last month we have lodged separate complaints to the Office of the Ombudsman on the ground that the accessibility to such materials is essential to policy deliberations, and is also in accordance with the Code on Access to Information that the HKSAR Government pledged to follow.
Despite having one of the lowest acceptance rates in the developed world, around 30 Justice Centre clients were granted protection in Hong Kong in 2019 alone, and our specialist policy and legal research work contributed greatly to these positive results.
Join us in driving change for a just and fair society by becoming our pro bono partners or by making donations.