Posted by Jade Anderson
"Imagine a perfect day in a perfect job. You wake up, and everything is exactly how you would like it to be. You feel respected, you feel happy, you feel fulfilled. You get along great with your boss. What would decent work mean to you?" This is the question we have been asking domestic workers in the past couple of weeks in preparation for our upcoming report.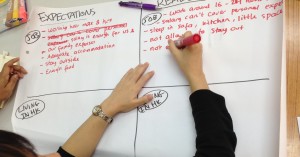 This week, on October 7, 2015, the World Day for Decent Work was observed across the globe. In numerous countries rallies, street demonstrations, conferences and cultural events were held to spread the message and demand respect for workers' rights. In Hong Kong today, discussions of what constitutes 'decent work' have never been more appropriate. These same questions have also arisen during Justice Centre's research project to examine the situation of human trafficking and forced labour among foreign domestic workers (FDWs).
As a Researcher who has been involved with the FDW study since the beginning, I've come to see how ideas about decent work are really at the heart of concepts like human trafficking, forced labour and modern day slavery. These terms can mean so many things to so many people. At first glance, it can seem obvious that we're all in agreement, but when you get down to writing a survey, you have to decide which questions to include or exclude and at what point to count a series of experiences as exploitative enough that it becomes forced labour or even trafficking into forced labour.
One of the most rewarding aspects of our research has been speaking with domestic workers themselves about these terms and asking them what they think. In addition to surveying over 1,000 foreign domestic workers, we have also been running focus groups with different groups of women with the support of domestic worker organisations throughout Hong Kong. The groups have been varied; some women have been activists, some have been receiving skills or self-improvement training. Some have been in shelters trying to resolve difficult situations with their employers.
When we asked these women the question "what does decent work look like to you?" they have generously shared their stories and ideas with us. Many have been at pains to point out that they have great employers who support them and respect their contribution to their household and to Hong Kong in general. One woman noted with pride that her employer never referred to her as her "helper," instead introducing her to her guests as her "chef" and then publicly thanking her for her hard work. The women in this group agreed that such acknowledgment and respect is a large part of what decent work means to them. Decent work to them looked like an eight-hour work day, having some "me-time" and respite, being able to save money and feeling like they are part of the employer's family.
But not all the women had positive experiences. Many shared stories of unending and unappreciated work, where every task they complete is corrected and "never good enough". They told us again and again that you are "lucky" if you get an employer who respects you. The women with "good" employers also considered themselves "lucky" and swapped stories about "bad" employers they had in the past. One woman remembered that she had been woken at two in the morning to clean a ceiling fan in the living room. When we asked another group of domestic workers what they would tell another person back in their home town about coming to work in Hong Kong as a domestic worker, one woman explained that she would tell them "No! Don't come to Hong Kong, I don't want anyone to experience what I have encountered."
For many of these women, the term "modern slavery" reflects not their actual status as "slaves" in Hong Kong but the attitude of many employers and people in general towards them as not the same, not their equals. In every group, women spoke of the lack of choices they have in their everyday lives; about what clothes they wear, what they can eat, when they can eat, when they can use the bathroom, when they can rest or sleep. Many women have commented that they need to get permission for everything and anything. For these women, the term 'slavery' resonates powerfully with their experiences of living and working in Hong Kong. This should give us pause for thought.
One of the things that has struck me the most during these discussions is that the women and men who come to Hong Kong as domestic workers want to work. They know that they are supporting their families and building futures for themselves. Being a migrant is often a source of pride. They are happy to be contributing to their employers' households and to Hong Kong. And they appreciate many things here, like the rule of law, the efficiency of the city and good transportation! But they want their work to be recognised as work, not just "help", by the households they work for and by the people and Government of Hong Kong.
It is our hope that this research will provide enough evidence to push the Hong Kong Government to implement fairer policies so that foreign domestic workers can not only be less vulnerable to forced labour, but also enjoy decent work, as valued contributors to Hong Kong society.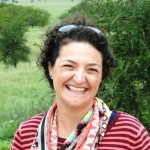 Jade is a researcher at Justice Centre Hong Kong.
We are extremely grateful to those who have made and continue to make this research project possible, in order for us to provide concrete evidence of the existence of human trafficking and forced labour in Hong Kong. The report, and its findings, will be launched next month. Read more about our Human Trafficking and Forced Labour research project here.
Thank you to the migrant worker groups and foreign domestic workers who generously gave their time to complete the survey and participate in the focus groups.
Financial support for this project has been provided by a mixture of funders, including the Macquarie Group Foundation, as part of a four-country study on domestic workers in source and host countries, working with Farsight.
A big thank you also goes to 24 Hour Race, a student-led organisation, who have chosen us as one of their charity beneficiaries for 2015, with proceeds from the race funding our trafficking research.