Posted by Victoria Wisniewski Otero
Last week we learned that the Hong Kong Government is developing a set of "proposals to enhance the Unified Screening Mechanism" (USM), the current system for assessing non-refoulement (refugee and other) protection claims. Despite having repeatedly requested consultation with the government since the USM was first announced back in 2013, our views, and that of other civil society members, were not asked for.
Now, ten months on since the USM started last March, its progress instead remains shrouded in uncertainty and in order to learn more about it, we have been forced to invoke Hong Kong's Access to Information Code to retrieve statistics from the Immigration Department (ImmD). The information in this blog is from Justice Centre's third and most recent Access to Information request, updated as of November 30, 2014, which we received in January 2015, and which we presented at Legco member Dennis Kwok's Friday Tea Gathering on January 16. The results can be compared to the information from our second request.
A confusing new system
Back in May, Justice Centre published a report on the USM, pointing out that the new system was mired in confusion and a lack of transparency.
Many claimants did not know how to file a claim to enter into the new system, including what to write and even how to send it. When it started, there was no way to obtain information by telephone or at the Immigration Tower, where there were no pamphlets or an information desk. I know this because I myself went in person one working day before the commencement of the USM. There was also nothing on the website. While there have been a few improvements since (there is at least some information on the ImmD homepage), it is not enough to overcome the real information barriers that claimants experience in accessing the system.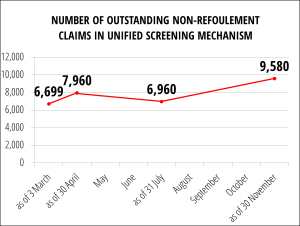 Our latest information request
We are able to give you a bit of a progress report based on our latest request.
As of late November, Hong Kong has a backlog of around 9,500 claims. In terms of a backlog, this is a lot for the government to get through. But in terms of numbers of refugees in Hong Kong, this is quite low when you consider that there are more than 46 million refugees globally that are of concern to UNHCR, the UN refugee agency. 9,500 refugees is only 0.1 per cent of the Hong Kong population; in the grand scheme of things, very few refugees actually come to Hong Kong, and 80% of the world's refugees are found in developing, poorer countries.
800 people so far have withdrawn their claims. 636 people have been processed through the system and have had a determination on their claim. Of these, as of November 30, there was not one single positive determination, although we have recently received word that there has been one successful claim since we received this data. Of the 636 claims that have been refused, 507 have been appealed.
The average rate of processing per month since the start of the USM has been, on average about 71 cases a month, based on the November 30 figures. At this rate, it would take about 135 months, or 11 years, for all 9,580 cases to be processed, assuming there are no new claims made or withdrawals. Even if half of the people withdraw their claims and there were no appeals, you can imagine it will still take several years, unless processing becomes more efficient, whilst being fair.
Lack of information on prioritising cases
The breakdown by nationality of outstanding, withdrawn and determined claims is interesting; it is clear that the ImmD is disproportionately determining claims for some nationalities; Pakistan, India, Bangladesh and Nepal; and disproportionately under-determining claims for other nationalities, such as Vietnam, Indonesia and this category of "others," which includes 862 claimants lumped together from countries including Somalia, Togo, the Democratic Republic of Congo, or Egypt for example.  Why is this troubling to us? Because at Justice Centre, we deal with the most vulnerable and traumatised refugees and most of our clients fall into this 'others' category'. It would follow then that the government is not prioritising the most vulnerable refugees in this new system. Despite asking, we still do not have a full breakdown of nationalities and have no information on the government's method of prioritising cases and the extent to which vulnerability is taken into account, if at all.
The right to information
The lack of regular and accessible data is a huge obstacle for our advocacy work. Human rights and solid publically available statistical systems go hand-in-hand and are part and parcel of good governance principles. Monitoring is particularly crucial at a time of transition. Unfortunately, the ImmD does not publish statistics on the USM. The practice of many other countries with screening systems, as well as the UNHCR, is to publish at least annual, or even quarterly, statistical tables on asylum claims and decisions.
Instead, we have had to use Hong Kong's Access to Information Code to seek information, but have not received answers to all our questions or fully disaggregated statistics by nationality, age, gender and other characteristics. At the end of the day, we are limited by the fact that HKSAR only has this administrative code, rather than access to information legislation. After all, freedom of information is indelibly related to freedom of expression.
We have so far filed three such requests, and we plan to do so each quarter, but for both sides, it is not ideal. It would ultimately be more efficient and less time-consuming for the government to simply have a publicly available statistical database rather than have to answer our individual requests.
Transparency is a pillar of good governance. We have been trying to push for this point and will continue to advocate for a fair and more efficient system as a whole. The vulnerable people who come to Hong Kong seeking protection deserve at least that much.