Posted by Sabrina Lu
Every year, Justice Centre's Young Advocates' Programme is open to a small number of young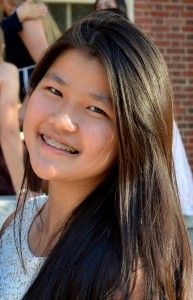 people to give them insight into the workings of refugee law and human rights advocacy in a real practice setting. Sabrina Lu, a 15 year-old high school student, and one of this year's Young Advocates, reflects on her experience of the programme.
The word 'law' often connotes interns working late into the night, law students reading endless stacks of paperwork, and associates downing their third cup of coffee as they stare at the piles of briefs weighing down their desks. As a 15-year-old girl, it was hard to imagine that the legal aspects of my experience in the Young Advocates' Programme with Justice Centre would be the parts that exhilarated me the most. I absolutely loved sitting in on interviews with refugees, working on their testimonies, and conducting research on their countries of origin.
Sheltered from world events
A big part of my love for the legal work is the knowledge and understanding I was able to procure from doing it. I came in to my first day at Justice Centre relatively ignorant and sheltered from the events going on in the world. I read the news, but did so from the comforts of my room, where I could never truly understand the severity of the situations that I was reading about. It was only after I began assisting with the real life testimonies of refugees, listening to them talk about their situations, and researching the places that they came from that I started to realise how critical the situations around the world are. I found myself gasping at some of the harrowing details and experiences from the testimonies and cringing as I read about the violence-filled countries that the claimants had escaped from. I know that I will never be able to truly understand the events that I read about, for I have never experienced anything close to them; however, I can say with the utmost confidence that I am now more cognizant of these situations and am slowly breaking out of my bubble of ignorance as a result of my work at Justice Centre.
Breaking the Stereotypes Through Testimonies
I do admit that I arrived at Justice Centre with preconceived notions about refugees. Everything I knew about these issues was what I had heard from others, and unfortunately the things that I had heard were very stereotypical. However, my perception was immediately changed when I read my very first testimony. The testimony was that of an East African refugee who had gone through great atrocities in her home country. Despite her experiences, she had no need for psychological support and spoke with remarkable clarity about her situation in her testimony. I was in awe over her strength and how she could speak so clearly about things that would have absolutely terrified me. I then read a testimony of a Middle Eastern man who spoke with an incredible eloquence. He too had gone through great obstacles but was again able to speak of them clearly and coherently. The refugees whose testimonies I read exhibited a fortitude that I don't see in myself or anyone I have ever met; their resilience in fighting through all the obstacles thrown in their way is extremely admirable. It is an unfortunate reality that the public views refugees in a very negative light, often feeling superior to them. However, if the testimonies taught me one thing, it would be that refugees are not only just like us, but they also possess a strength that we can and should all learn from.
Making a Difference
It is quite uncommon for a high school student to walk out of a NGO volunteering experience and be able to say with conviction "I made a difference." Most of the people I know end up complaining about the tediousness of making coffees and comparing stories about all the shows that they watched while waiting for their next task. However, I felt that with every legal task that I performed, I was able to make a small difference; in helping out with the testimonies and providing research to support each refugee's claims, I was slowly helping the caseworkers to build and strengthen cases for refugees that could ultimately help them acquire safety and a fresh start in their lives. This was my absolute favorite part of working on the legal tasks. I entered the Young Advocates' Programme thinking about the possibility of a career in law, but was still held back by what I thought could be tedious and somewhat boring legal work. However, even though I am not ignorant to the piles of paperwork that I will have to conquer if I study law, I realize that legal work has its beauty and can truly be enriching and thought-provoking. Most importantly, legal work can be incredibly empowering, assisting people in receiving the justice that they deserve.
The views expressed in this blog represent the personal views of the author/s and do not necessarily represent the views, opinions or policy of Justice Centre Hong Kong.