Hong Kong Human Rights Art Prize 2018
Established in 2013, the Hong Kong Human Rights Art Prize (HKHRAP) has played a pivotal role in discovering and encouraging Hong Kong artists to explore the state of human rights both at home and abroad.
Run annually and open to all Hong Kong artists, recurring themes in previous years include the Occupy movement, the environment, homelessness, the plight of refugees, forced labour, ethnic minorities and LGBT rights.
This years winners were announced on 8th December 2018 at the Hive Spring where the public exhibition ran until Friday 11th January. From Monday 14th until Sunday 3rd February the following pieces were showcased at Eaton House.
WINNER: Siu, Wai Hang - "Open Ta Kung Pao"
DIRECTORS CHOICE: LAU, Ching Yee - "Wildness in Pawn"
1st RUNNER UP: Cheung, Hing Yee - "Soften stones 1"
EATON AWARD: Ophelia Jacarini - "BLOOMING 2"
2nd RUNNER UP : Lo, Yuet Mei - "Boxed In"
EATON ACKNOWLEDGEMENT: Art Women X Aanya - "Creating agency and sustainable futures"
Media:
HKHRAP judge Ben Quilty on empathy, justice and the human condition, Hong Kong Free Press, 14th February 2019
123 Show: Interview with Winners & Justice Centre Hong Kong, RTHK Radio 3, 19th December 2018
ArtAsiaPacific, 12th December 2018
Hong Kong Human Rights Arts Prize 2018 explores Human Rights home and abroad Hong Kong Free Press, 18th November 2018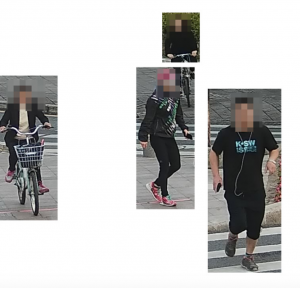 All proceeds were donated to Justice Centre Hong Kong.
Hon-hei (Terry) NG
23 Jaywalkers & 183 Others
Artist Statement
In April 2017, Shenzhen traffic police began capturing photos of pedestrians and applying artificial intelligence and facial recognition technology to identify jaywalkers. Photos of jaywalkers, along with their surnames and partial ID numbers, are displayed on large LED screens above the pavement, also in a webpage launched in March 2018. The webpage, displaying a total of 14 photos captured between 8 & 16 March 2018, was removed from the police website soon after without notice and has become inaccessible since about September 2018.
於2017年4月,中國深圳市交通警察局啟用人工智能及人臉識別技術來拍攝行人闖紅燈的違法行為。違法者被拍攝的照片﹑其姓氏及部份身份證號碼會被展示於設置在行人路的電子屏幕上。交通警察局其後於2018年3月製作了名為「行人闖紅燈曝光台」的網頁以公開違法者的照片及個人資料。「行人闖紅燈曝光台」一共公開了於2018年3月8日至16日期間所拍攝的14張照片。可是,網頁不久後便從交通警察局的網站移除,而約從2018年9月起便無法連上了。

Li, Ka Man (Florence)
Lie Flat, 2018
Artist Statement
"Lie Flat" questions the standard of living in Hong Kong and what is considered to be adequate living space and conditions. The work started from a case study based on a maids room in a high-end residential interior design project. The size of the bed was insufficient for a human being to lie down flat, making a stark contrast to the affluent living conditions outside the maid room. Juxtaposing the projection of a human body as a metaphor to reveal that the ultimate solution of the housing conundrum has not been resolved, it is tangible but it remains elusive.
"Lie Flat" 探討關於生活水平的問題以及我們應該如何介定適當的生活空間和條件。 這項目始於一個高級住宅室內設計項目中的工人房的案例研究。 床的大小不足以使人平躺,而與工人房外的富裕生活條件形成鮮明對比。 將人體的投射並置作為隱喻,以揭示住房難題的最終解決方案尚未得到解決,這是有形的,但仍然是難以捉摸的。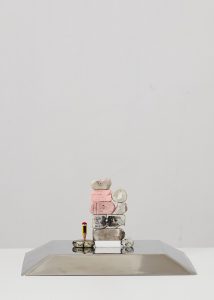 1st RUNNER UP
Cheung, Hing Yee (Sophie) 張馨儀
"Soften stones 1: Tombstone for 61 HK students suicide since 2016", 2017
Artist Statement
The Committee on Prevention of Student Suicide(CPSS), established by the Education Bureau, publicised it's Final Report (Nov 2016), stating that the students committing suicide was not directly related to the education system. In the conference of Legislative Council of Hong Kong on 7th January 2017, a primary student spoke that "Everyday l go to school, I feel like the stones are dropping down and smashing me....." This is the inspiration for the series. Discovering that the erasers were shaped into the form of stones in the process of rubbing and making scores, but they were still soft. Those "soften stones", which were not only stacked into tombstones, also became specimens. Then, the sounds of those moments- falling down from the buildings, smashing stone and rubbing on the paper, which turned into a thought-provoking force through visual arts.
〈柔軟的石頭〉系列源起於 2016 始香港掀起一股學生自殺潮,引發民間關注學生的精神健康及教育制度改革的訴求。可是,教育局成立的防止學生自殺委員會,就事件發表的《最終報告》中指出學生自殺潮跟教育制度問題無直接關係。
2017 年 1 月 7 日,一位小三學童於立法會教育事務委員會特別會議上發言,控訴每天上學壓力太大,形容就好似「畀石頭砸住我咁樣,係咁砸砸砸砸砸」,由此觸發整個系列的創作靈感。
為了發掘香港學生的日常情緒,於是不斷收集筆尺留痕的擦膠:我們學習過程中所用的擦膠最終會被磨耗成石頭的形狀,但仍柔軟。
柔軟的石頭,透過堆疊化為墓碑,成為標本,墮樓身亡的砰然一聲,石頭的砸地聲,擦膠在紙上磨擦的聲響,通過視覺藝術的方法,轉化成發人深省的力量。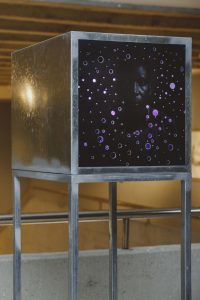 2nd RUNNER UP
Lo, Yuet Mei羅月眉
Boxed In, 2018
Installation with photography and video
Artist Statement
This series of work Boxed In, including 3 installations of photography and video, is about the non-refoulement protection claimers. They are boxed in the pain and fear of the past, the present difficulties and the uncertainties of the future. The holes on the photographs represent their inner worries and the difficulties they are facing. The portrait on each installation can be seen from the light of the video in the box shining through the holes on it. The observer can view back and forth from the front portrait to the video inside. This cross check viewing process provides a new reading experience on photography.
《困》 這系列三件混合媒體裝置作品表達「免遣返聲請人」被圍封在過去的恐懼、現在的困境和將來的徬徨中! 黑暗照片上的圓孔不單代表他們內心的憂慮及表面情況,更透出盒內錄像的光茫,從而看見相中的人像,引導觀者來回往復觀看前置的照片及內設的錄像,經歷反覆對照的觀看經驗。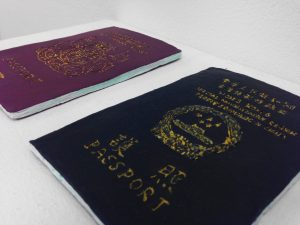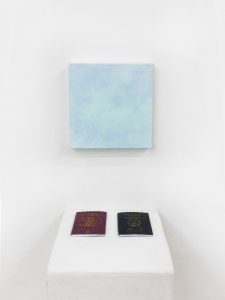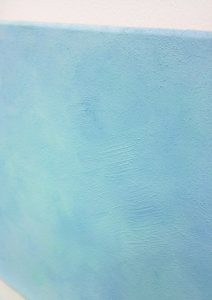 Chan, Wing Yee (Winnie)
Identity, 2014
Artist Statement
My father was born in Hong Kong and my mother was in Mainland China (her parents were born in Hong Kong but left Hong Kong in order to escape from the Japanese occupation during world war II), therefore my mother was not allowed to come to Hong Kong and live with us until 1998 due to immigration and visitor rules. Hong Kong was a British colony before 1997, Hong Kong permanent residents were able to apply for British National Overseas passport before the handover and HKSAR Passport after the handover. However, having the BNO passport does not grant the right of abode in UK. Under these situations. I started to question my identity and our freedom of choosing where to live and work. We live under the same sky; the world only has one sky; every human should have the same equal rights. The sky in square canvas represents unknown, infinity, but is bounded by an invisible stretcher like country boundary and rules.
我的爸爸在香港出生,媽媽在中國大陸(她的父母是在香港出生但在第二次世界大戰日本佔領時期逃亡離開香港),所以自小媽媽不能來香港和我一起生活直至1998年。香港在1997年之前是英國殖民地香港永久居民可以申請英國海外護照,回歸後可申請香港特區護照。但擁有英國海外護照不等於擁有在英國工作及居住的權利。在這些情況下我開始詢問自己我的身份和我們在世界上可選擇在不同地方工作和生活的自由。所有人生存在同一個天空下; 全世界都是同一個天空; 所有人類都應平等地擁有同一樣的權利。就如畫布的天空代表我的感覺是不知道,無限但是被畫框像地區界限及規例隱形地限制着。



WINNER
Siu, Wai Hang
Open Ta Kung Pao, 2018
HD Video
Artist Statement
Numbers, the indicator of satisfaction, but it seemed not work anymore. Tired, no matter how long we can walk, we will never reach the goal. Doubt, somebody ignored our voices even if we were exercising our right, is that the purpose of freedom of speech?
數字,一個不屑一顧的指標。
衰憊,無盡旅途是望不見的將來。
疑惑,發聲遭到漠視,是權利的存在意義嗎?
人權,看似與我無關。
o!sland (Wong, KA Chung Dorothy and Benjamin Ryser), Yuri Pasang
Artist Residency, Tree Tree Tree Person - Taroko Arts Residency Project
Going Back II, 2018
Digital copy of artist books
Participative photography and text installation (a set of 40 photos digital print on photo paper, 24 text collages on paper, drawing on photos with white and silver markers)
Artist Statement
We find the path to our home in the exchange of our stories.
Going Back II addresses experiences of home, belonging and displacement from the perspective of Yuri Pasang, a member of the Truku tribe. The Truku are an indigenous tribe in Taiwan that faced forced resettlement from their ancestral mountain homeland by different colonizers.
Instruction to visitors: Please bring one personal photo. Replace one postcard from the installation with your photo. Write a story about your home on the back of the postcard and put it into the box to send it to Yuri.
*Going Back II was originally conceived as a site-specific work that can be visited at Yuri Pasang's home on the Liwu mountain (立霧山). For more information please refer to Tree Tree Tree Person - Taroko Arts Residency Project (https://www.facebook.com/air.taroko/).
我們在彼此交換的故事當中尋回往家的路徑。
回去II從台灣的太魯閣族人李阿雪(Yuri Pasang)為起點,延伸至關於故土、歸屬感、錯置和距離的經驗。台灣的太魯閣族原住民被不同的殖民者逼遷移住, 離開祖先世代於山上的領地。
給觀者的指引:請攜帶一張私人照片,從我們的作品中取下一幀照片並寫下一則關於家或故土的故事然後放進箱裡給李阿雪作交換。
*回去II 源自以李阿雪在立霧山中祖靈守護的家為中心的一份site-specific作品, 觀眾可以到山上探訪。更多詳情請參閱「森人-太魯閣計劃」。(https://www.facebook.com/air.taroko/)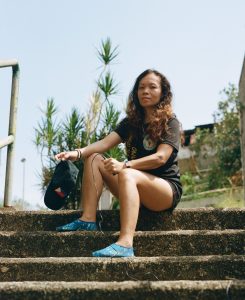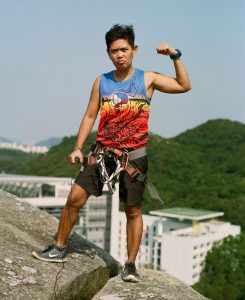 Thomas, Jake S.
Sunday, 2018
Photograph and Photobook
Artist Statement
This Project focuses on Foreign Domestic Workers in Hong Kong, concentrating on the idea of self-representation through the Photographic image. The images display the activity of the women during their only day off, Sunday. Our aim is to give over the reigns of representation to those who are misrepresented in Hong Kong. By using the method of the self-assisted portrait, this then creates an opportunity for these women to represent themselves truthfully, honestly and by their own hand. We hope that this may help to address human rights issues and the unfortunate stigmatisation of Foreign Domestic Workers. This project is ongoing and will be completed in the form of a photo book.
本項目重點關注香港的外籍傭工,通過攝影讓傭工表達自我。 我們的目的是給予在香港未受代表的人士一份主權性。 通過使用自助肖像的方式,給予這群女仕一份真實、誠實和親手以自己的攝影為自己發聲的機會。 我們希望這可讓大家關注她們所面對的人權問題以及外籍傭工經常遇到的不公待遇。 該項目正在進行中,其後將會出版攝影書冊。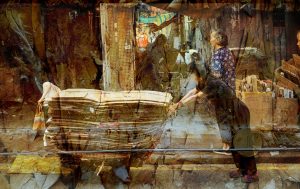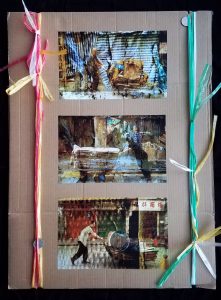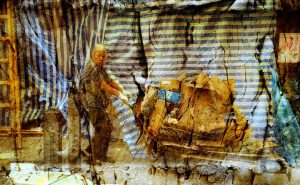 Reyes, Marissa
Cardboard Camouflaged, 2018
Artist Statement
Art.23 "The right to just and favourable conditions of work". In HK there are almost 3,000 people, mostly elderly, some homeless, making less than $1,000 a month, by collecting and selling cardboard for recycling from the streets. With $1 per kg, their days are long and require high physical endurance, plus facing all sorts of challenges; from hectic traffic and congested sidewalks, to the sadness of being unseen by too many of us. Elders of our community, worthy of a peaceful retired life, are being camouflaged under brown cardboard pieces and newspapers filled with news that don't concern their reality, yet they keep pushing the cart.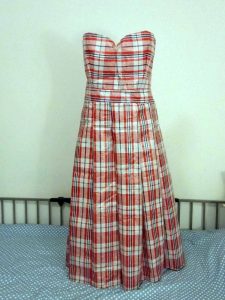 Gemma Abad Calajate
Recycled Thought, 2018
Artist Statement
Recycled Thoughts. Why a market bag? Because I want to challenge people to see things in a new way, when you look at my dress with the heart. Like an ordinary bag, very common, simple and durable, but now it is a new thing, with a new purpose. Every individual has something in common but in so many different ways. Sometimes it's not about what we want to do or want to become, but because we have to do it. Being a domestic helper is not really my choice, not even a dream job. But we chose to take off the piece of clothing that we are wearing and that piece of clothing represents home, our loved one, being with our children and spouse. Take that piece of humble clothing of being a domestic helper, away from our comfort zone and embrace it with joy. This is my call. Help us not to forget who we really are.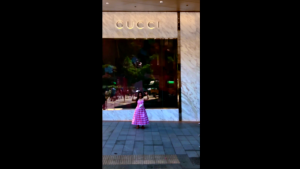 Kate Sparrow
Not For Sale, 2018
Iphone Video
Artist Statement
The short film is a visual dialogue between me and my domestic helper Gemma (Gee) The work is entered under both our names as a collaborative piece. The work was inspired by the story of 'Au Wai-Chun' who abused her helper and gave punishments with a price tag attached that was charged out of her wages (in the government contract a helper can be charged over $300 per item that is broken in her duties) Gee made a dress in response to this which was made from Amah bags. We decided to pay homage to Ai Wei Wei and use a vase that we broke in various places in Hong Kong. The breaking of the vase gives reference to the fines imposed but also represents the sacrifice of domestic helpers in Hong Kong. We featured designer labels in the film to show the unfair division of wealth within Hong Kong.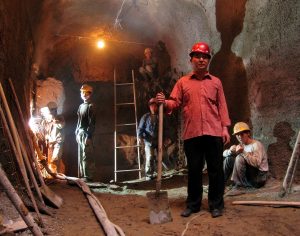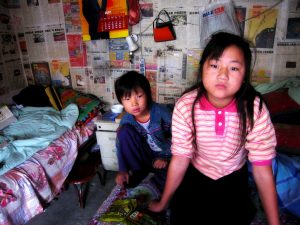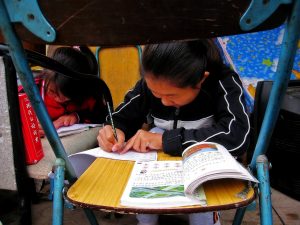 Yang, Pit Hing
"Low-end Population" in China Evicted, 2017
Artist Statement
Tens of thousands of migrant workers, called "low-end population" by the government, were forcefully evicted from their homes in Beijing in November 2017 under a citywide clean-up after a fire that killed 19 people. Such evictions had spread to other cities as far as Shanghai and Shenzhen. The large-scale forced demolitions and evictions have raised concerns that the government no longer welcomes people from poorer areas after they had taken up the most "dirty, hard, heavy and exhausting" jobs to help build up the mega cities. More than 100 Chinese intellectuals have signed a petition condemning the mass evictions.
Treves, Alexander
Lucky, 2018
Auction Starting Bid: $7,500 HKD (Estimated Market Price: $15,000 HKD)
Artist Statement
By the UNHCR's most recent estimate there are 69 million refugees on our planet. This piece, "Lucky", has two elements. The first contains the photograph and testimony of an asylum seeker in Hong Kong. He has never met his youngest child as he fled his home before she was born; however, he says that he is "lucky" because he is alive. The second element contains four photographic portraits of refugee girls from different countries and in different circumstances, all of around the same age as the man's daughter. These portraits sit on a base containing ash and debris, including the remains of photographs of homes in 69 different countries. Disaster could strike any of us.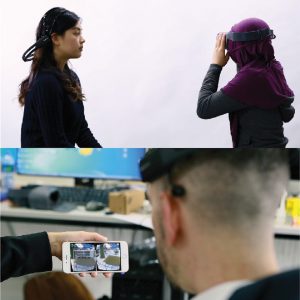 Wan, On Ni (Annie)
Telepathy Machine, 2017
Video (https://vimeo.com/206888676
Artist Statement
In many Virtual Reality (VR) projects, audience are invited to wear VR headsets and engage with the sensory experiences generated by computer technology. Artist Chris Milk suggests VR technology as an ultimate empathy machine and VR technology in this project, Telepathy Machine, based on Milk's idea, its immersive nature which allows visitors to put oneself in one's shoes and to immerse themselves into the psychological landscapes of people suffering from different types of discrimination in everyday life. In Telepathy Machine, designed virtual worlds that emulate mental images of people when facing humiliations, such as verbal abuse at school, racists jokes on the streets, sexual harassment in an office environment, etc., and it can also function as a spatial occupation reflecting the emotional interiority of their minds. Typical emotions, such as unspeakable shame, guilt and vulnerability, deflated sense of self, isolation or loneliness are difficult to explain and put into words. Telepathy Machine allows the audience to experience others' emotions and memories.
藝術家Chris Milk將虛擬現實技術視為終極換位機器。 新媒體藝術家Annie就基於Milk嘅想法,創作左作品《感應》,讓參觀者沉浸喺遭日常生活中承受不同類型歧視嘅人嘅心理景觀中,感受佢地嘅內心世界.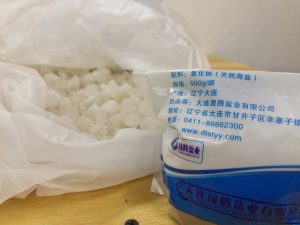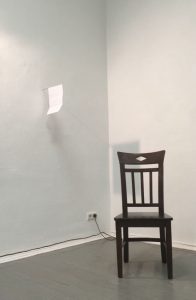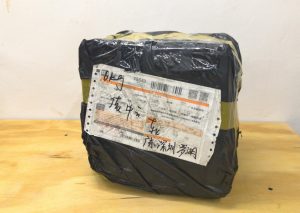 Ling, Chung Wan (Kevin)
The Ashes of a Chinese, but in our body, 2018
Artist Statement
To speak to the one we love, to die in the place we want. Are these our rights as a citizen of China? Liu Xiaobo sacrificed his freedom to arise our freedom of thought, not to save our body, but our soul. We can't save him, but the thing we can do and probably Liu would want us to do is keep fighting for our human rights and the democracy we deserved. Liu was awarded the Nobel Peace Prize, while he was in jail. An empty chair was left for him at the ceremony. A month before his death of cancer, he wanted to go to Germany for medical treatment and help his wife seek freedom, but in the end, they couldn't make it. Within forty-eight hours after his death, his body burned to ashes, and mixed with the sea, and became the salt.
對所愛的人說話,在期望的地方死去,是我們中國公民應有的權利嗎? 劉曉波犧牲自己的自由來喚醒我們思想的自由,拯救的不是我們肉體,而是靈魂。 我們拯救不了他,但我們可以做的事、也是他希望我們做的就是繼續堅持爭取人權,為民主自由奮鬥。 當劉曉波得到諾貝爾和平獎時,他身處監獄。在頒獎典禮上,人們為他準備了一張空櫈。 在他因癌症逝世前的一個月,他希望到德國接受醫學治療並為妻子尋求自由,但到最後他們都 不能夠達成。 在他死後四十八小時之內,他的身體被燒成灰燼,融入於海洋中,成為了鹽。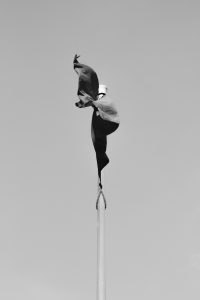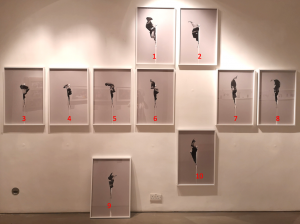 Leung, Mong-sum (Joseph)
The Flag of Hong Kong, Waving in the Wind, 2016
Artist Statement
"The Flag of Hong Kong, Waving in the Wind" explores an alternate photographic reality while simultaneously reflecting the actuality of Hong Kong and the perplexing emotions of its people. Underneath the physical instability of the flag lies a convoluted stream of emotions and agitation of the city; one that originates from insecurity, anxiety, and fear regarding the rapid diminishment of political freedom and intensifying suppression. As a part of Hong Kong, I share the same deep emotions and agitation when I see the current turmoil in society, and feel disturbed when thinking of the future. I do not know the answers to my queries towards the future, nor the way out of the chaos, yet it is in this special moment in time when we are truly honest towards our own emotions, exposed and laid bare before the unknown future.
《風中的香港旗》探索了另一種攝影真實,同時反映了香港的現況和羣眾複雜的情緒。在國旗不穩定的情況下,香港人的情緒和激動,源於越來越激烈的政治打壓,衍生出來的是不安、焦慮和恐懼。作為香港的一分子,當看到社會動盪時,我感受到深刻的情感和激動,並在思考未來時感到不安。對未來的疑問,我沒有答案,也沒有出路,但正是在這個特殊的時刻,我們能誠實面對自己的情感,並坦露於未知之中。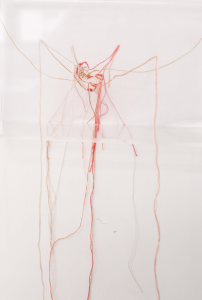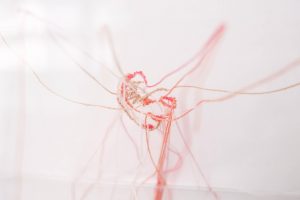 EATON AWARD
Jacarini, Ophelia
BLOOMING 2, 2018
Artist Statement
"Women's rights are human rights." Yet everywhere in the world, girls are still denied them, often simply because of gender. Through embroidered nude female bodies, I explore the internal voices of a female sexual life. My work carves the way for women from all around the world to embrace themselves and their emotions. In 2012 I woke up in a hospital, a doctor explained to me that I was found in the street with my clothes partially stripped and destroyed after being raped. A sense of invalidation comes with this kind of experience: Is this normal? Is this just the way things are? I am using my experience to make my point, but I am not alone, every 98 second a rape is happening somewhere in the world. Are we doing enough to empower girls and young women to express their experiences and gain confidence and validation? Constant vigilance and creativity are needed to counter the efforts of mindsets who seek to curtail women's freedoms, and to ensure the path to equality for all. Feminism needs to be something that includes everybody, it's not just a women's issue.
Pen So
Focus, 2018
Artist Statement
The level of press freedom has been reduced in the past decade because many news reporters choose to be one-side of party or select their news to report. A square created by two hands implies a TV camera in the picture. It represents the current reporters' view points about the political news in Hong Kong. Their eyes focus on what they want to report inside of the square and also ignore the truth of outside to their people.
眼見近年香港新聞自由減少,新聞已經出現選擇性的報導或變成單方面的介紹。圖中一雙手代表記者,他們只想讓大眾留意框內的事物,而不想讓我們知道這個世界的真實......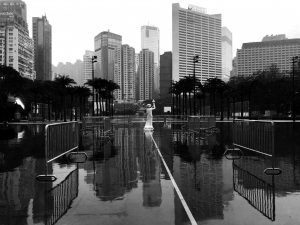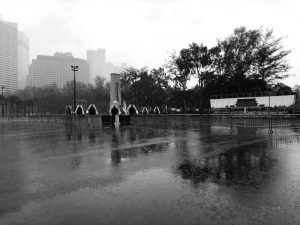 Chan, Suk On
Our Landscape, 2018
Artist Statement
The Victoria Park was very quiet and only the staff were busy preparing in the morning. Suddenly the wind and cloud changed colour, and the goddess of democracy under the heavy rain was photographed.早上的維園很寧靜,只見到工作人員忙於準備。突然風雲變色,拍下了這輯滂沱大雨下的女神,見慣風雨而䇄立不倒。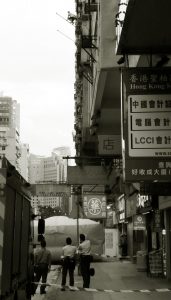 Sadiosa, Enrique
Desperado, 2018
Artist Statement
This photo of a local man about to jump from a building in Yau Ma Tei reflects the psychological and economic desperation of some Hong Kongers which the local government is handicapped to address. When will the government address the challenges of the poorer members of our society?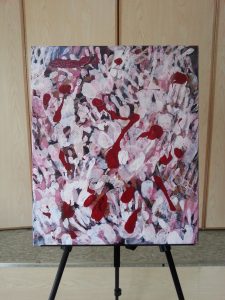 Villanueva, Maureen
Innocents Hands, 2018
Artist Statement
The most common type of human rights violations and abuse for woman and children in my country, The Philippines, is rape and murder. There are countless unsolved cases where the families of the victims are still crying to seek justice for the loss of their loved ones. My piece, Innocents Hands depicts the hands of the raped/murdered family seeking justice and a survivor of this violence. The sight of a bloody and lifeless body of an infant, children and women lying along the creek, bushes, garbage and even at their own home is so alarming and sickening that it could drive you to throw up and grieve. People are no longer safe in their own homes night or day, for they may become the next victim of those ruthless and heartless psychomaniacs still on the loose till this day. They are like hungry wolves looking for prey to devour. The families of victims are hunger for justice for their love ones who are lying underneath in cold dark graves. I am hoping that this picture will bring more awareness to our government to take extreme action and give justice and protection for every women and children in my country.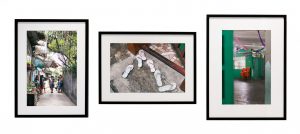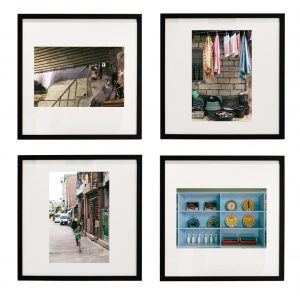 Wong, Tracy
Living Conditions, 2018
Artist Statement
Living in a hygienic and clean environment should be a basic human right. Some of us may take that for granted, yet there are over 2.3 billion people globally who lack access to basic sanitation. This set of photographic prints was created during a volunteer visit to the Philippines with Clean the World Asia. The Hong Kong-based charity recycles discarded hotel soap bars that would otherwise end up in landfill, then donate the like-new soap and provide hygiene education programs to communities in need in Hong Kong and abroad. The images serve as a reminder of the hardships experienced by families that live in less-than-ideal conditions, yet offer a glimpse of the humanity and hope through the colorful imagery and cheerful facial expressions.
生活在衛生和清潔的環境中應該是一項基本人權。 居住在繁榮社會的人們可能認為這是理所當然的,但全球卻有超過23億人無法獲得基本衛生設施。 這套照片是本人作為義工攝影師與潔世亞洲赴菲律賓訪問期間創作的。 本港慈善機構潔世亞洲回收被丟棄的酒店肥皂,不單減少了堆填區的負荷,更捐贈再生肥皂及提供衛生教育給有需要的人。 這些照片以作提醒在非理想環境中生活的艱辛,也透過豐富多彩的意象和歡快的表情,一瞥人性和希望。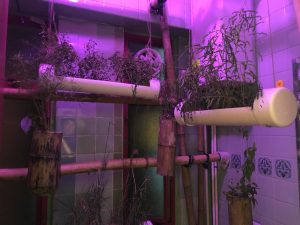 DIRECTORS' CHOICE AWARD
LAU, Cathleen Ching Yee
Wildness in Pawn, 2018
Artist Statement
"Wildness in Pawn" I shovelled the weeds around the city and put them into the Pawn, however, weeds should not be raised. In Hong Kong, we are all like weeds that have been shovelled and killed, you have to exchange and mortgage life. We are free and tenacious to survive in our own way since always, but this weed pawn will raise you as a mortgage from now. Here, the Weed Pawn only allows you a limited restrictive rebelliousness. As long as you keep in mind that you are still weed, pledge an object that represents your personality, exchange it for a stylish weed. If there is no one with a conscious of being character, the weeds here will die.
《押你一份野生》 野草本來不應該被養,而我在城市中剷走野草,將其放進當舖養着。在香港,我們都是被剷,被悉心養死的野草。這裡的生活,你需要交換抵押。 我們本是自由而頑強地用自己的方式生存,但這個野草當舖會將個性的你以抵押的方式養着。讓你有限度的野生。只要你緊記你還是野草,抵押一件代表你個性的物件,然後對換自然野格。 如果沒有自覺的出現,這裡的野草將會逐步枯死。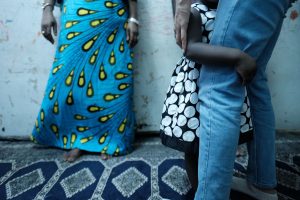 Art Women X Aanya (Photograph by Phoebe So)
Creating agency and sustainable futures, 2018
Garment
0x0x0
Not for Sale
Artist Statement
The right to work is protected under the Universal Declaration of Human Rights (Article 23.1). Hong Kong is not a signatory to the Refugee Convention and refugees who come to this city are in legal limbo, unable to work. This piece explores the importance of providing an educational opportunity: vocational skills and learning for life are both important despite the human right to work not being observed in relation to refugees. Vocational education lifts people from poverty and creates sustainable futures – our goal is to spearhead this process by making women lead change within their communities.
工作權利受世界人權宣言第23條保障。香港並非《難民地位公約》的締約國,亦無制定相關法例保障難民權益。因此,來到香港的難民在這個城市沒有一個法定身份,也不能工作。
我們希望藉這個活動探討為難民提供教育機會的重要性。縱使難民的工作權利在香港並未受關注,但職業技能和終身學習對他們而言都十分重要。职业培训有助人們脫貧以及創造可持續的未來。我們的目標是藉著讓女性帶領社區變革,引領职业培训發揮效果。