Let me ask you, can you imagine living a life away from your home, in a situation where you had to leave your loved ones behind and seek asylum in Hong Kong?
The first time I heard about Justice Centre Hong Kong was when I was doing my university assignment on asylum seekers and refugees in Hong Kong. Thinking about refugees, many questions came to mind: "Are they socially excluded in Hong Kong?" And if yes, "What can be done from the micro to macro level to make them a part of Hong Kong society?"
As a student social worker at Justice Centre, I have learned the answer to some of these questions. I have become particularly aware of the plight of women refugees in Hong Kong. Over the past few months, I have been involved with Voices for Protection, Justice Centre´s advocacy and human rights training programme for refugees. The intake that I have been a part of was a special intake just for women supported by HER Fund.
This week, on the occasion of International Women´s Day, we organised a special training for all women who have graduated from Voices for Protection across the four intakes. This was a leadership programme run by the leadership development consultancy Bridge. A large number of the participants were aware that it was in fact International Women´s day and were very excited to celebrate the day and themselves by taking part in this leadership programme.
To me, Voices for Protection is about self-transformation, capacity building, and social change. It gives women a platform to reflect their needs and strengths. In the different sessions, women have voiced their needs and wishes to contribute to the labour market and boost Hong Kong's economy rather than just relying on the government's support; they have expressed their wish for a fair and fast USM system; and they are eager to learn more about their rights.
It has been moving to see how some of the group members showed tremendous progress and change throughout their participation in the programme over the course of the past 12 weeks. Some of the participants had previously never been outside of their homes by themselves, but nevertheless came and took part in every session. They learned to read the MTR map to find the way on their own, and they gained the confidence to speak in front of the other participants at the sessions.
Building rapport and trusting relationships is quite vital in a social work setting. As a student social worker observing the different sessions, I could see how the group started forming and how the group dynamic changed as the programme progressed. I can still remember how anxious the women were to stand up and introduce themselves in the first few sessions; gradually they began opening up, and trust was built up among the women and the facilitators.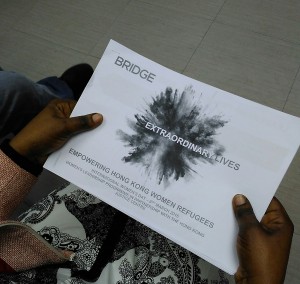 Towards the end of this intake of Voices for Protection, we organised a field trip for all the women to meet with LegCo member Emily Lau at the Legislative Council. The visit proved to be an empowering moment for the women, and they all made an effort to prepare and speak up for their rights. This would not have been possible if the women did not have trust in themselves, the other participants or the staff and volunteers from Justice Centre. I was very touched when one of the participants asked me to read her script to make sure it was well-written, or when another woman rehearsed her speech in front of me. The women were exemplary representatives and advocates, and I am sure this must have been heard well by LegCo member Emily Lau.
The Voices for Protection traineeship is the first step towards changing the lives of asylum seekers and refugees in Hong Kong from an individual to a societal level. On International Women´s Day this year, the women graduates proved just how big of a difference the traineeship can make to them, both as individuals and as advocates for their own rights. The graduates were stronger, happier and more empowered than I have ever seen them before. I am proud to have had the opportunity to take part in this important programme, and to contribute to making a difference in the lives of refugee women in Hong Kong.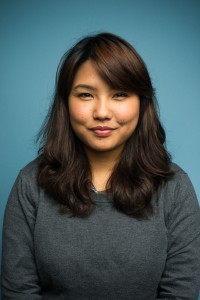 Anju Ghising is a second year Social Work student at the University of Hong Kong (HKU). She is a student social worker at Justice Centre through HKU's Social Work Fieldwork Placement Programme.