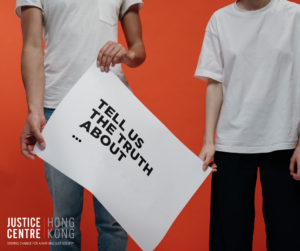 Today, on the International Day for the Right to Truth concerning Human Rights, Justice Centre Hong Kong echoes the importance of the right to the truth.
Accountability is key to protecting human rights – only with the right to the truth, can we pursue the right to justice and the right to an effective remedy and reparation. On this note, we are proud of Justice Centre's work in ensuring vulnerable communities' access to justice and we will continue working with all stakeholders in driving change for a fair and just society.
Read our freshly published Annual Review July 2018 – June 2019 here and our quarterly newsletter here.