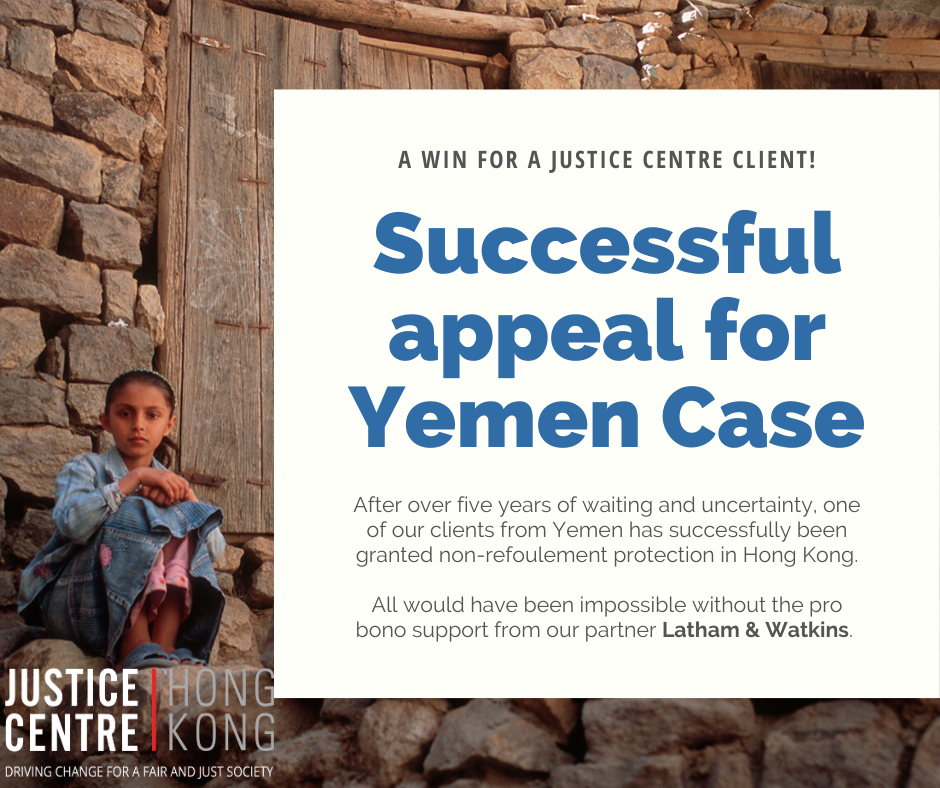 A Win for a Justice Centre Client!
We were delighted to learn of the successful appeal of one of our refugee clients from Yemen. After over 5 years of waiting and uncertainty, they have now been granted protection in Hong Kong.
Enormous thanks must go to our pro bono partner Latham & Watkins, whose dedicated pro bono support on this case was vital.
Yemen is in a prolonged civil war that has claimed the lives of over 100,000 since 2015 [1]. The United Nations has forecast the country to be the poorest in the world by 2022 [2], and has often described the situation as amongst if not the worst humanitarian disaster in the world [3].
The great news for our client came just before the New Year and he and his loved ones were overjoyed during the festive period.
This result was made possible with the skillful assistance of pro bono legal support from Latham & Watkins in helping to overturn the HKSAR Immigration Department's initial decision to refuse his claim.
Stories like this are a genuine testament to just how life-changing the legal support from Justice Centre and our pro bono partners is for our clients. Despite having one of the lowest acceptance rates in the developed world, in 2019 alone around 30 Justice Centre clients were granted protection in Hong Kong.
Join us in helping the communities we serve by supporting our work here: https://www.justicecentre.org.hk/donate/ or learning about our pro bono programme here: https://www.justicecentre.org.hk/become-a-pro-bono-volunte…/.
References:
[1] The Guardian's report on October 31, 2019, "Death toll in Yemen war reaches 100,000"
https://www.theguardian.com/…/death-toll-in-yemen-war-reach…
[2] Al Jazeera's report on October 10, 2019, "Yemen to become world's poorest country if war continues: UN"
https://www.aljazeera.com/…/yemen-world-poorest-country-war…
[3] UN News on February 14, 2019, "Humanitarian crisis in Yemen remains the worst in the world, warns UN"
https://news.un.org/en/story/2019/02/1032811