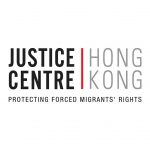 There are numerous opportunities to volunteer with Justice Centre Hong Kong from protection claimant services and research to fundraising and events, design & communications. We recruit committed and passionate individuals according to our current needs. Most volunteer opportunities require a long-term commitment (usually six months) and the right to work in Hong Kong. We advertise volunteer opportunities on this section of our website and in our quarterly e-newsletter; sign up for updates here.
Protection Claimant Services Legal Caseworker
Full-time, six-month volunteer position
The Protection Claimant Services Caseworker is responsible for supporting all aspects of our protection claimant services. This is a great opportunity for those who have a passion for protecting the human rights of the most vulnerable forced migrants in Hong Kong. Applicants should hold an undergraduate or post-graduate degree in law, and have excellent analytical, research and presentation skills.  Please refer to the Terms of Reference for more details. Application deadline: 13 April 2018.
Board Director
We are seeking individuals committed to our cause to join our board of seasoned professionals. It's an exciting time for us and we need dynamic, enthusiastic people to steer our development. This is a fantastic opportunity for anyone who is looking to use their skills and expertise to serve the most vulnerable members of our community. Please click here to learn more about this role.
Psychosocial Intern
Part-time, flexible arrangements are available
We are looking for a psychosocial intern to join our PCS team. Applicants will be currently studying, or have recently completed, a master's level (or above) qualification in psychology, counselling, social work or a related field that leads to an accreditation by a national body. Please click here to find out more about this opportunity.
Psychosocial Coordinator
Part-time, flexible arrangements are available
The incumbent of this position is responsible for providing administrative and coordination support to the Psychosocial Programme and the Child Psychological Therapy teams in order to ensure services are provided in a professional, sensitive and efficient manner. He or she may also become involved in tasks for the legal team in connection with our casework; provide file management; and act as the first point of contact for the organization in-person, on the phone, and via email. Please click here to find out more about this position.
Justice Centre Fellow
The Justice Centre Fellow is a position created to develop public interest law capacity in Hong Kong, while contributing to the provision of Justice Centre's individual claimant services and the operation of Justice Centre's pro bono partner programme. Applications are accepted on a rolling basis. Please find details here.
Click here to find out about our other vacancies.