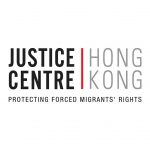 There are numerous opportunities to volunteer with Justice Centre Hong Kong from protection claimant services and research to fundraising and events, design & communications. We recruit committed and passionate individuals according to our current needs. Most volunteer opportunities require a long-term commitment (usually six months) and the right to work in Hong Kong. We advertise volunteer opportunities on this section of our website and in our quarterly e-newsletter; sign up for updates here.
Psychosocial Coordinator
This is an exciting opportunity to gain experience of client facing work under close supervision from our expert team of refugee lawyers and Psychosocial and Child Psychological Therapy teams; the chance to learn more about refugees in Hong Kong, attend high level psychosocial and legal trainings and to contribute to rewarding human rights work.
The Psychosocial Coordinator is responsible for providing administrative and coordination support to the Psychosocial Programme and the Child Psychological Therapy teams in order to ensure services are provided in a professional, sensitive and efficient manner.
The Psychosocial Coordinator may also become involved in tasks for the legal team in connection with our casework; provide file management; and act as the first point of contact for the organization in-person, on the phone, and via email. You would therefore play a critical role in client and external relations. This is a volunteer role, full time preferred.
Main responsibilities include:
Respond to client inquiries (often highly vulnerable people), and also that of other visitors in a professional, sensitive and respectful manner;
·        Confirm and arrange appointments with clients and interpreters, and make appointment reminders as needed;
·        Keep up to date with social services available to clients and source potential new services;
·        Co-ordinate and assist with client and stakeholder events including managing materials, guest lists, venues, catering, and post-event evaluations;
·        Manage office space reservations;
·        Manage petty cash;
·        Co-ordinate data collection and end of month statistical reporting for PCS;
·        Liaise with interpreters, attend to interpreter matters, keep an up-to-date record of interpreter details and co-ordinate interpreter payroll;
·        Contribute to Justice Centre's legal and psychosocial file management systems as well as monitoring and evaluation systems in terms of collection, verification, database entry, and filing of client data;
·        Assist with the coordination of intake and referrals for the children's therapy project; provide guidance to clients / interpreters to complete the informed consent form and relevant intake assessment questionnaires for new children's psychological therapy clients.
If you demonstrate excellent organizational and communications skills; conduct yourself with cordiality, diplomacy and patience, have a willingness to learn and develop new skills, understand multicultural sensitivity and have the ability to work with people from different cultural backgrounds and across varying language barriers; we would love to hear from you!
You should also be a Hong Kong ID card holders with the permission to volunteer in HK.
The deadline for applications is 21st June 2018.
For more information, please contact PS@justicecentre.org.hk
Fundraising and Development Coordinator  
This is an exciting opportunity to get involved in the heart of a small, proactive human rights NGO in Hong Kong and work with a creative and dynamic team.
We are looking for a volunteer to fill a highly flexible part-time position in our Fundraising and Development (F&D) Team for a minimum period of six months to one year. The F&D Team oversees Justice Centre's events, campaigns and fundraising work.
We are highly cognizant of how valuable your skills and time are to small charities like us, in terms of both contribution and impact. Your skills can help us make a difference, and you will also have the opportunity to work with a professional and internationally recognized NGO.
Your role will be to support the F&D team in all areas of the work including, but not limited to, the following:
Assist with events planning, including the World Refugee Day and Hong Kong Human Rights Arts Prize
Assist with awareness and fundraising campaigns' development
Liaise with schools, student groups and community organisations to garner community support
Help maintain the donor database
Support the charity's third party fundraising programme
If you have excellent communication skills, are organised and reliable with the ability to work independently whilst being a good team-player, we would love to hear from you.
You should also be a Hong Kong ID card holders with the permission to volunteer in HK.
For more information, please contact jobs@justicecentre.org.hk
Board Director
We are seeking individuals committed to our cause to join our board of seasoned professionals. It's an exciting time for us and we need dynamic, enthusiastic people to steer our development. This is a fantastic opportunity for anyone who is looking to use their skills and expertise to serve the most vulnerable members of our community. Please click here to learn more about this role.
Psychosocial Intern
Part-time, flexible arrangements are available
We are looking for a psychosocial intern to join our PCS team. Applicants will be currently studying, or have recently completed, a master's level (or above) qualification in psychology, counselling, social work or a related field that leads to an accreditation by a national body. Please click here to find out more about this opportunity.
Justice Centre Fellow
The Justice Centre Fellow is a position created to develop public interest law capacity in Hong Kong, while contributing to the provision of Justice Centre's individual claimant services and the operation of Justice Centre's pro bono partner programme. Applications are accepted on a rolling basis. Please find details here.
Click here to find out about our other vacancies.