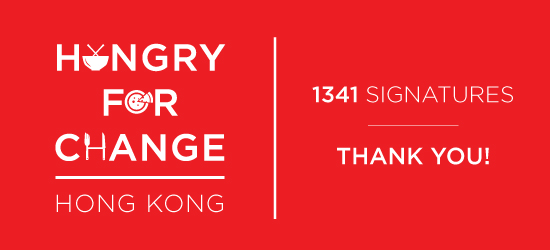 Update: March 12, 2015
The petition is now closed and we have reached a whopping 1341 signatures, all thanks to your help! We could not be more pleased with this result and this public support will really add to our advocacy work with the Hong Kong Government on the refugee food issue.We will update you about the developments of this campaign within the next few weeks. We will also be posting updates on our Facebook page and our blog, so please sign up to these to hear our news first.
With all our thanks,
The Justice Centre team
UPDATE: MARCH 11, 2015
Late last year we called on your help to support our Hungry for Change campaign to ask the Hong Kong Government to allow refugees to eat in dignity. Many of you took the 3-day food challenge or signed and shared our petition. We thank you sincerely for your support. If you are new to this campaign, you can read more about it below.
This week we are at a crucial juncture in the Hungry for Change campaign and there exists a window of opportunity to act NOW to bring about change. The Hong Kong Government is about to award a tender for the new food assistance contract.
This is our moment to present our petition to the government.
We need to act NOW to make sure that this new contract has the dignity of refugees at its heart.
We plan to present the petition to the Hong Kong Government TOMORROW, THURSDAY MARCH 12.
This is your final opportunity to sign the petition. If you have already signed, this is your chance to share it with your friends, family and colleagues and on your social networks.
For the petition to have impact, we need 1000 signatures – we are currently at 727. Please help us get to 1000.
You can find and share the petition HERE.
WE WILL CLOSE THE PETITION AT NOON ON THURSDAY.
YOU HAVE 24 HOURS TO ACT!
We will then present the petition to the Hong Kong Government tomorrow (Thursday) with these three simple asks:
Move to a cash or food coupon system that gives dignity and choice to refugees
Increase assistance annually in line with inflation
Ensure all refugees get the same assistance no matter where in Hong Kong they live.
If you do one thing for good today, take this action – refugees, who have suffered so much, deserve at least to eat in dignity.
Thanks for your support.
Information about the last campaign: October 14-16, 2014
What is it?

Imagine if you had no cash, but only bags of food every five to ten days said to be worth HK$40 for three meals a day from which to feed yourself? How would you do it?
This is how refugees are expected to eat in Hong Kong. From a meagre bag of food worth just HK$40 per day, that's HK$13 per meal. Could you live on that?
Refugees in Hong Kong are not allowed to work, so they have no money to buy their own food. They have to pick their food up every five to ten days, pre-packaged from a grocery store that is usually far away from where they live.
Sometimes the food is out-of-date; sometimes it's rotten; always, it is limited. But we think it doesn't have to be this way. Because in a city of plenty, no one should have to eat like this.
SO WHAT CAN YOU DO ABOUT IT?
Take the Hungry for Change Challenge
Eat for little in the city of plenty and be part of a Hong Kong-wide movement to change the way refugees must access food.
1. From October 14-16 and on World Food Day (Oct 16), join the Hungry for Change Challenge and eat for HK$40 per day for 3 days to bring life to the experiences of refugees in Hong Kong.
2. Sign our petition to ask the government to give refugees cash to allow them buy their own food and eat in dignity.
How you do it in 7 easy steps.
Step 1: SIGN UP HERE!
Step 2. Download your Campaign Toolkit
Step 3: Eat for HK$40 per day for three days.
Step 4: Get your family and friends to sponsor you through the challenge
Step 5: Photograph it, blog about it, video it, share it with the tagline #HungryforChangeHK
Step 6: Sign the Hungry for Change petition.
Step 7: Donate the money you raise to provide food for refugees at our centre and to support our advocacy work to improve the lives of refugees.
Sign Up here:
For full information, recipes, fundraising and campaigning ideas, download our Campaign Toolkit
POSTERS AND LEAFLETS
Posters and leaflets are also available so you can publicise the events at your school, in your office, at your sports club or church and help spread the word.
Download A5 Leaflet
Download A5 Leaflet (Eco Ink)
Download A4 Poster
Download A4 Poster (Eco Ink)
Download A3 Poster
Download A3 Poster (Eco Ink)
Ideally we want everyone to take the challenge on October 14-16 to create 3 days of collective action and coincide with World Food Day on Oct 16. If you can't do it on these dates, please let us know when you would like to do it. And if you can't do it over 3 days for health or other reasons, you can do it for 1 or 2 days. Just email here hungryforchange@justicecentre.org.hk to let us know.
Terms and Conditions
By participating in this Challenge, you acknowledge that you understand and agree to the following Terms and Conditions:
I understand and agree that the organisers of Hungry for Change do not undertake any responsibility whatsoever for the health and safety of those participating in the Hungry for Change challenge (the "Challenge").  I understand that, if I have a health condition, I should seek medical advice prior to participating in the Challenge, and that I should take reasonable precautions during the period of the Challenge. By agreeing to participate in the Challenge, I agree and warrant that I am in good health and am fit to participate in the Challenge safely.  I understand that I should cease the Challenge immediately if I feel unwell.
By participating in this Challenge, I acknowledge and agree that I understand the nature of all the activities involved in my participation in the Challenge. I voluntarily accept all risks necessarily flowing from my participation in the Challenge. I agree that the organisers of Hungry for Change, and all other persons, corporations or other organisations associated with the Challenge, are not liable for any loss or damage suffered by myself or others arising from my involvement with the Challenge. I hereby indemnify those persons, corporations and organisations against all liability, loss or damage arising directly or indirectly from my participation in the Challenge.
If you are under 18, you must ask permission from your parents before participating.
Please see our Privacy Policy for information about how we use and store the Personal Data you have provided in this form, and how you may request access to, or correction of your Personal Data.