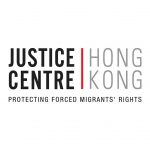 Glimpses over the Edge: Photographs of refugees by Justice Centre board member Alexander Treves
 There are now more than 60 million people displaced by conflict, violence or persecution across our planet, a greater number than at any time since the end of the Second World War. The problem is broader than many people realise, extending to our own doorstep in Hong Kong.
The photographs for this project were taken in twelve different countries and in many different circumstances, a reflection of the diversity of the refugee experience.
For all of the scale of this global disaster, ultimately it matters at a personal level. The mass of the displaced is of course comprised of 60 million individual stories, 60 million individual lives.
The formidable size of the problem can't be a justification for inaction. If each of us cannot easily fix the root causes of displacement, we absolutely can help people who find themselves in that wretched situation: the terms of their plight are not inevitable.
Even moderate assistance can make all of the difference in the world to someone like you or like me who somehow has been uprooted from their home and has come close to losing everything. Aid directed effectively can help individuals who've slipped over the edge.
Exhibition Venue: Foreign Correspondents' Club, Hong Kong, 2 Lower Albert Road, Central
Exhibition times: 10am-12noon and 3-5:30pm daily from November 3.  
A photobook is being published in November. Details at www.glimpsesovertheedge.com

Turning pro bono into a business asset
We are privileged to work with some of the top law firms in Hong Kong who provide essential pro bono assistance to enable us to deliver essential legal support to over 1000 refugees in Hong Kong. Our ED, Piya Muqit, will draw on this experience as she speaks at The American Chamber of Commerce in Hong Kong on November 8 with FleishmanHillard Hong Kong's head of pro bono programmes, Laura Tyson, to explore the business implications of pro bono, and share tactics to design and implement pro bono programmes that meet business objectives while creating social benefit. 
Date: November 8, 2016
Time: 12:00 noon – 1:45pm
Fees: HK$280 (member) or  HK$400 (non-member)
Venue:The American Chamber of Commerce in Hong Kong, 1904 Bank of America Tower, 12 Harcourt Road, Central.
Please click here for more details and to RSVP. 
COCO drinks presents: Anti-human trafficking
Come along for HK Community Connect – Monthly Drinks COCO Drinks at Orange Peel on the evening of Friday October 28 to learn about anti-human trafficking efforts led by Justice Centre and other organisations in the region. The event is free entry so get there early to grab a seat!
Date: Oct 28, 2016
Time: 7-9pm
Venue: Orange Peel, 2/F, 38-44 D'Aguilar Street, Central, Hong Kong
Please click here for more details.
Speakers: 
Justice Centre: Jade Anderson, Anti-Human Trafficking Coordinator 
Jade has been working in human rights-based development since 2002. She has worked in Afghanistan, Pakistan, India and South Africa for local and international NGOs. She has also worked with the UN Refugee Agency in Australia. Before joining the organisation, Jade worked with the international company Statt, researching people who decide to seek asylum from Afghanistan through irregular channels. Jade is also the co-author of the Justice Centre report, Coming Clean.
The Mekong Club: Matt Friedman, CEO
Matt Friedman is an international anti-human trafficking expert with more than 27 years of experience as an activist, program designer, evaluator, and manager. He is currently the Chief Executive Officer for The Mekong Club, an organization of Hong Kong-based private sector business people who have joined forces to fight human trafficking in Asia, which he also co-founded.
"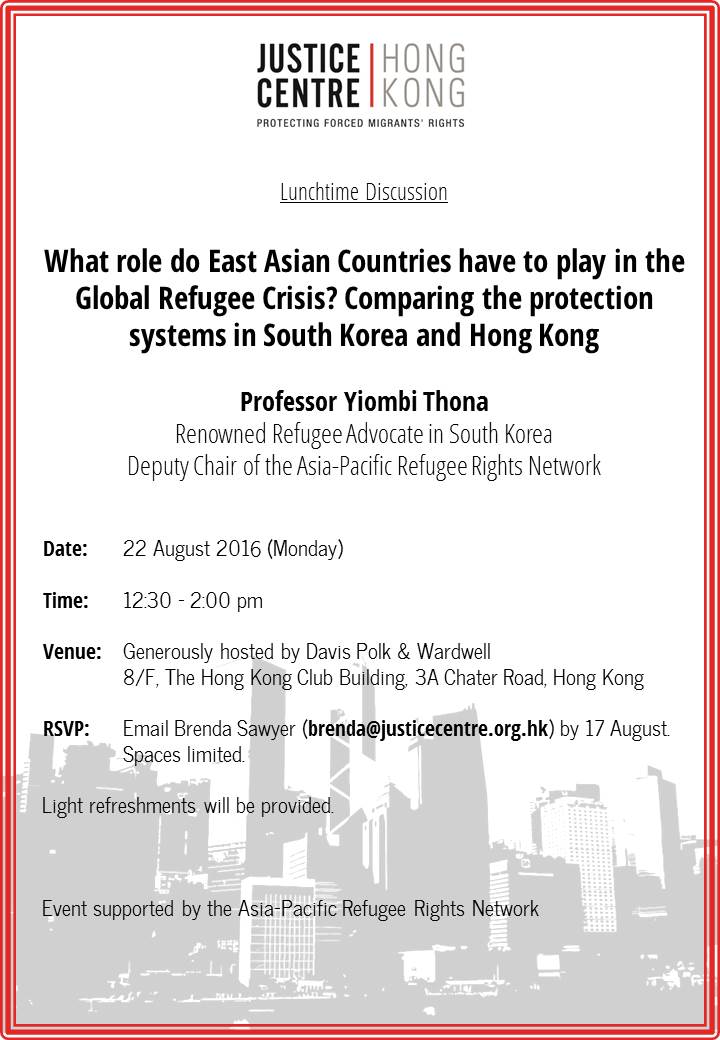 As the world is in the midst of an unprecedented global refugee crisis, what role do countries in East Asia have to play in sharing responsibility to address it? East Asia is home to many well-developed countries with strong rule of law and high levels of donations by their citizens for global international humanitarian causes. Yet domestic legal frameworks for protection are relatively new, and acceptance rate and quotas for refugees remain comparatively low.
This talk will give a first-hand account by a refugee on the challenges and journey of seeking protection in South Korea and rebuilding his life there. Professor Thona ​was forced to flee from the Democratic Republic of Congo and sought asylum in the Republic of Korea. He has gone on to become a well-known refugee rights advocate in South Korea and globally, as well as the Deputy Chair of the Asia Pacific Refugee Rights Network. His full biography can be found here.
In 2012, the South Korean Parliament passed Law No. 11298 of 2012, The Act on the Status and Treatment of Refugees, and recently piloted a refugee resettlement programme. In Hong Kong, a ground-breaking Court of Final Appeal judgment in 2013 resulted in the introduction of a Unified Screening Mechanism to process non-refoulement claims for protection from persecution, torture and grave human rights abuses.
 Professor Thona will be joined by Justice Centre's Advocacy and Campaigns Manager, Victoria Wisniewski Otero. They will explore these two new systems, discuss challenges and opportunities in each and offer insights into how East Asian countries can take meaningful steps forward to share responsibility for assisting refugees as members of the international community and be tolerant and welcoming places for those seeking asylum. The talk will be followed by a Q+A.
 Spaces are limited. Please RSVP by August 17 to Brenda Sawyer at brenda@justicecentre.org.hk
This event is supported by the Asia Pacific Refugee Rights Network.
Rock for Justice – World Refugee Day 2016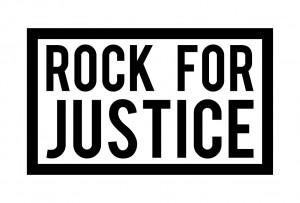 We commemorated World Refugee Day on June 20 with Rock for Justice, a live music event kindly hosted by Orange Peel and generously co-sponsored by Freshfields Bruckhaus Deringer, Lexis Nexis and Macquarie.
Human Rights Week Talks and Activities 2015
In the run up to International Human Rights Day 2015 (Dec 10), we organised a series of talks and activities for the whole family to celebrate and learn about human rights. All talks and activities were held at The Fringe Club.
Hong Kong Human Rights ArtsPrize Exhibition
Children's Activity Morning: Refugees, You and Me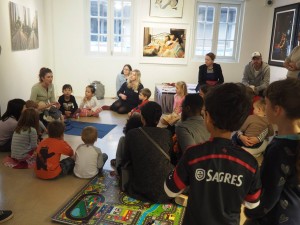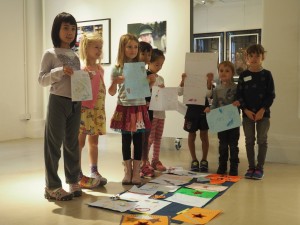 Public Talks: Refugee Rights in Hong Kong (in English and Cantonese)
Artist talk by Kacey Wong and Katie Vajda:  Art and Human Rights
Public Talk: Human trafficking and forced labour in Hong Kong