The position of Justice Centre Fellow presents a valuable opportunity to work as part of our legal team, providing vital legal assistance to refugees in Hong Kong. Our lawyers are international – they have wide-ranging expertise in public law and in representing refugees, from 5 different jurisdictions.
The position was created to develop public interest law capacity in Hong Kong, while contributing to the provision of Justice Centre's individual claimant services and the operation of Justice Centre's pro bono partner programme.
Applications are accepted on a rolling basis.  Please find additional details here.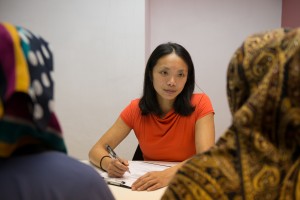 "The past year has been the most enriching of my career. As Justice Centre Fellow, I have had the opportunity to learn from experienced refugee lawyers and leading practitioners from around the world protecting the rights of forced migrants. As a qualified Australian lawyer with a background in corporate and immigration law, the position of Justice Centre Fellow provided the stepping stone I needed to make the leap from the corporate sector to the field of refugee protection."
– Lynette Nam, Justice Centre Fellow 2015-2016