Justice Centre Ambassadors Network
中文版請按此處
Are you interested in human rights activism? Do you have skills or talents that you can contribute in your spare time or on an ad-hoc basis? Justice Centre's Ambassadors Network offers our supporters the opportunity to get more involved in our work on an ad hoc basis.
The network is formed by like-minded and passionate individuals who are committed to take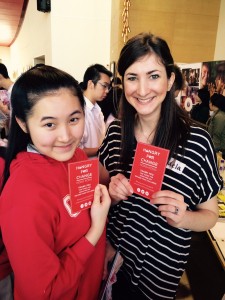 action and support Justice Centre in raising awareness of issues faced by forced migrants in Hong Kong. Members of the network work closely with Justice Centre staff and core volunteers to engage with our work, such as translating advocacy materials, assisting with campaigns and public awareness initiatives, delivering school talks and supporting fundraising events. The Ambassadors also help identify new opportunities and devise creative methods of engaging the Hong Kong public.
Training is be provided and talents and skills of all kinds are greatly valued, whether it's graphic design, public speaking, community work, or even as simple as the ability to communicate in Cantonese!
The course of justice is never smooth, but you can be the bridge.
What will you do?
Ambassadors support our work within the capacity of the following roles, depending on skills and experience.
Translation
Assist in translation of materials, e.g. for advocacy, media etc., from English to Chinese and vice versa.
Schools outreach
Assist in delivering school talks, sometimes with a refugee speaker
Reach out to local schools and engage local students
Help carry out public engagement campaigns to schools
Fundraising and events
Support Justice Centre's fundraising efforts
Identify opportunities for fundraising
Identify opportunities at local community events to engage in advocacy
Help carry out public engagement campaigns and events
Who are we looking for?
Aged 18 or older
Committed, responsible, creative and open-minded
Demonstrable passion for human rights advocacy
Fluent in English. Cantonese is desirable, but not essential
How to apply?
Applications for the first round have now closed. We will offer rounds of application calls at different times in the year, so please continue to check in for the next call for applications. For more information, please email ambassadors@justicecentre.org.hk.